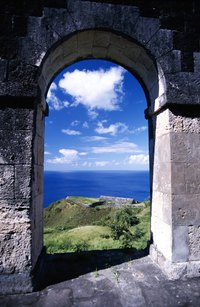 Part of the twin-island federation of St. Kitts and Nevis, St. Kitts -- also referred to as St. Christopher -- is just 69 miles square and feels markedly more laid back, but more authentic, than neighboring islands such as St. Maarten and Antigua. As a former British colony, the island receives a reasonable amount of tourist traffic from the U.K., even though they're located only 1,200 miles from Miami; the islands are slowly emerging as a destination for the U.S. market.
Island Attractions
Typically, visitors come to St. Kitts for its off-the-beaten track blend of lush vegetation and history. The UNESCO World Heritage site at Brimstone Hill is testament to the island's strategic importance during the epic naval 18th century naval battles between the British and French across the Leewards. Hikers and mountain bikers can enjoy the rainforest trails around Mount Liamuiga, a dormant volcano, while other visitors can ride the St. Kitts Scenic Railway, one of the only working railways in the entire Caribbean that once played a part in the island's past as a major producer of sugar cane.
Island Basics
Numerous international airlines run a scheduled service to Robert L. Bradshaw Airport, including Air Canada, American Airlines, Delta, U.S. Airlines and British Airways. While AA runs a daily service to Miami, most other airlines operate only a weekly flight schedule. U.S. citizens require a passport to enter St. Kitts, whereas Canadians need only proof of citizenship. The island uses the Eastern Caribbean dollar, but U.S. dollars are accepted everywhere, bills only.
Marriot Hotel
St. Kitts' only resort with an all-inclusive option is the St. Kitts Marriot and The Royal Beach Casino on Frigate Bay. The all-inclusive getaway package covers room, all meals, all non-alcoholic and certain alcoholic beverages, activity center rentals and tennis. A minimum stay of four nights is required and the promotion does not cover the Blue Martini Piano Bar, casino bar and golf club restaurant. The 320-room Marriot is home to the Royal St. Kitts Golf Club, a championship course, the Emerald Mist Spa, and the only casino on the island. Note that pets are not allowed.
Other Accommodation
St. Kitts has just seven resort hotels, ranging from the international feel of the Marriot to the quintessentially Kittitian Ottley's Plantation Inn. To put it simply, the small island's economy doesn't benefit from all-inclusive hotel accommodations. The good news is that there are plenty of opportunities for good value, budget accommodation without any concession to comfort or service. Visitors can even immerse themselves further in the island culture by opting for the guest house or bed and breakfast option, where at least one meal is covered.