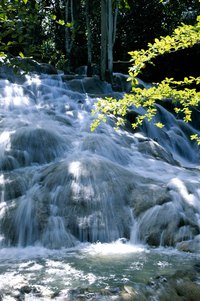 Jamaica's beaches, waterfalls, open-air markets and historic tours make the nation a prime tourist destination. According to the Jamaica Gleaner, as of 2012, Jamaica was the fastest growing cruise destination in the Caribbean. With four ports around the island, Jamaica drew 1.14 million cruise passengers in 2011 and has space to double that number. Despite tight security regulations, Jamaica cruise passengers have three options for identification documents.
Passport
A passport is considered the gold standard for international travel, as it is the only document valid for travel by air, land or sea between all countries. Your passport must be valid and undamaged. Unlike some nations, Jamaica does not require your passport to be valid for six months after your visit, but the U.S. requires it to be valid on the day of your return to the United States.
Passport Card
A passport card is a wallet-sized, less expensive alternative to a full passport. Under the terms of the Western Hemisphere Travel Initiative, passport cards are acceptable when traveling by land or sea between the countries in the designated Western Hemisphere travel area, including the nations of the Caribbean region.
Birth Certificate
If you are traveling on a closed-loop cruise -- one that departs from a United States port and returns to the same port -- you may present a birth certificate rather than a passport or passport card. You must show a valid government-issued photo ID along with your birth certificate. A certificate of naturalization or a consular report of birth abroad is acceptable in lieu of a birth certificate. Children under age 16, or those under 19 traveling as part of an organized group, may present a birth certificate when traveling by land or sea, even if the cruise does not depart from and return to the same U.S. port.
Special Considerations
Passport cards and birth certificates are not valid for international air travel. If you miss the ship or have a personal emergency that requires you to fly home, you must have a valid U.S. passport. Apply at the U.S. Embassy in Kingston, Jamaica, for an emergency passport. Jamaica requires proof of onward travel as well as sufficient funds for your stay. Your cruise ticket is sufficient to meet these requirements. Carry your ticket while you are in Jamaica in case you are questioned by local authorities.