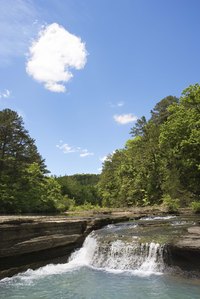 Branson, Missouri, with a population of just 10,000, annually attracts over 8 million visitors. The perfect vacation spot for families, Branson has events and attractions that appeal to all age groups. Whether you decide to take in one of the extravagant shows or spend a day at an interactive museum or amusement park, Branson offers engaging entertainment options at every turn.
Dixie Stampede Musical Rodeo
This attraction bills itself as "the most fun place to eat" in the Ozarks. Dolly Parton's Dixie Stampede offers a rodeo-themed show and companion dinner. You and your family can enjoy horse-riding stunts, musical numbers with special effects and the excitement of a friendly Civil War-inspired competition. All of this occurs while you enjoy a four-course dinner. The Travel Channel picked the Dixie Stampede Musical Rodeo as one of its must-see Branson attractions.
The Track Family Fun Park
This large-scale amusement park allows parents to rediscover their inner child while go-kart racing with their kids. With eight go-kart attractions and eight additional rides and gaming areas, the Track Family Fun Park offers a whole day's worth of entertainment and fun. The "Heavy Metal High Rise" go-kart attraction is one of the most popular rides and offers a four-story climb and fast-paced descent.
Silver Dollar City
The most widely attended attraction in Branson, Silver Dollar City offers thrill rides, a cave tour, kids areas and crafting demonstrations. Modeled after a pioneer village, Silver Dollar City features a variety of fun food options, including an ice cream parlor and old-time candy store. With singing, dancing and roller coasters, Silver Dollar City offers something for guests of all ages.
The Titanic Museum
Highlighted as a top Branson attraction by the Travel Channel, the Titanic Museum offers much more than homage to the popular movie. This meticulously researched attraction manages to combine high entertainment value with an educational experience. Each visitor is given a boarding pass that assigns him the identity of an actual Titanic passenger, complete with a personal history. A tour takes you through a museum that doubles as a movie-set-quality reproduction of the Titanic.
Shepherd of the Hills Homestead
The Shepherd of the Hills Homestead is where Branson's tourism boom all began. A 1907 bestselling book of the same name attracted tourists in search of the novel's characters and Ozarks setting. An entrepreneur satisfied this demand through the creation of the Homestead, which opened in 1960. The reproduction village features 90 actors and a log cabin that burns nightly.
The Landing
The Landing is at the end of Branson's primary entertainment strip. A collection of bars, restaurants and shops, the boardwalk-inspired Landing sits next to Lake Tanneycomo. The centerpiece of this area is the Water and Fire Fountain, which cost $7.5 million to build. This outdoor dining and shopping district is the perfect place to relax after a busy day exploring Branson.
Shows
Billed as having more theater seats than Broadway, Branson prides itself first and foremost on its shows. No trip to the city would be complete without experiencing at least one, and there are plenty to appeal to any taste. The ABBA Tribute: Thank You For the Music show features lookalike performers who sing spot-on renditions of ABBA's hits. If music is not your thing, the Legends of Kung Fu performance offers the same show that kicked off the 2008 Beijing Olympics.
Hollywood Wax Museum
This premier Branson attraction is the only wax museum in the country devoted solely to celebrities. Completely renovated in 2009, the Hollywood Wax Museum was awarded the 2011 Beautification Award by the City of Branson. This museum allows you to mingle with the stars thanks to lifelike re-creations and the careful construction of backdrop settings.
White Water Amusement Park
You and your family can beat the heat with an excursion to Branson's only full-size outdoor water park. White Water makes use of over 2 million gallons of water a day to take the burn out of the Midwest summer. Popular attractions include the Aloha River and the 7,000 feet of combined water slides. You can even rent your own cabana for a private place to relax, or enjoy a "dive-in" movie at the park's swimming pool theater.
Showboat Branson Belle
The Showboat Branson Belle is Branson's very own paddlewheel boat attraction. Located on Table Rock Lake, the Branson Belle offers a two-hour cruise that includes a three-course meal. The Travel Channel picked the Branson Belle as a top area attraction for its historical fidelity and high-quality entertainment. While you enjoy your cruise and food, the Made in the USA variety act ensures you stay entertained. Featuring comedy, magic and music, the Made in the USA troupe also boasts the world's only aerial violinist.