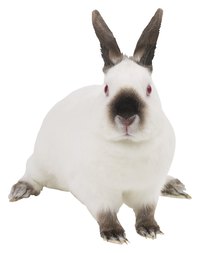 For humans, sweating is a somewhat icky but inevitable part of life, vital for keeping body temperature under control and cooling purposes. People possess an immense amount of sweat glands, too -- approximately 3 million of them. Rabbits, on the other hand, just aren't as sweaty as people are. Not even close.
Rabbits and Sweating
Rabbits, for the most part, are unable to sweat. Although that might sound like a good thing on paper, it actually can be a perilous situation. The only sweat glands they possess are situated over the lips. Unfortunately for the furry cuties, the lips just aren't useful areas for driving away heat. The shortage of sweat glands means that rabbits don't emit much fluid via their skin.
Temperature
If you have a pet rabbit, an awareness of the lack of sweat glands is vital for keeping your fluff ball as safe and comfortable as possible. Since rabbits don't really sweat, they tend to thrive in cool settings. The optimal temperature for rabbits is 65 degrees Fahrenheit. Temperatures lower than 82 degrees, however, are absolutely crucial for their well-being and health. Never keep your rabbit anywhere with a temperature of over 82 degrees, period.
Dealing With Heat
Heat is a major potential source of danger for rabbits, and not only because they barely sweat, although that is indeed a prominent factor. Canines, for one example, are totally capable of panting for doing away with heat, but rabbit panting isn't effective for these purposes. They also stop panting entirely when their bodies experience dehydration. Extremely hot temperatures also generally halt H20 intake in rabbits -- another major hazard. Out in the wild, rabbits generally cope with unpleasantly hot daytime temperatures by going into burrows, or by tracking down some cozy shade.
Symptoms of Overheating in Rabbits
Overheating is a severe risk to rabbits. Apart from always maintaining sufficiently cool temperatures for rabbits, it's also important to abstain from ever putting them under full sun. Some telling indications of overheating in rabbits are loss of coordination, blue mouth coloration, decreased energy, rapid breathing, feebleness, salivation and blood coming out of the nose or mouth. They often tend to sprawl out in these situations, too. Urgent veterinary care is critical for all rabbits that display these symptoms. Note that excessive heat woes can sometimes lead to fatalities in rabbits.