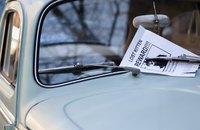 It is quite upsetting for anyone to lose their cat, but it is especially devastating for those felines accustomed to the indoor life. With an estimated 60 million feral and stray cats in the U.S., you can easily doubt you will ever find your beloved kitty. However, as the majority of lost cats are eventually found, some even traveling hundreds of miles to find their way home, all hope is not lost.
Looking at the Numbers
A survey conducted by the ASPCA in 2010 found 15 percent of cat owners lost their cat. Of this group, 74 percent of the cats lost were eventually found. While the majority of the recovered felines, 59 percent, returned on their own accord, and 30 percent were found from the owner searching the neighborhood, only 2 percent were found at a shelter. This information highlights where to put your initial efforts should your kitty become lost. Preventative measures, such as ID tags and microchips, must also be considered.

What Can Happen Outdoors
An indoors-only cat is likely to be scared by noises or unfamiliar territory. The longer she remains outside, the more risks she will face. She can be exposed to diseases, such as feline leukemia, and poisons from leaking car fluids, fertilizer or certain outdoor plants. Injury and death can occur from car accidents or meeting with other wildlife. Tragically, some lost cats can cross paths with people who simply don't like cats, or those who torture animals for amusement. This is why it is important to take certain steps if your cat becomes lost.
Is Your Cat Lost?
In some cases, cats hide in tiny spaces, so look under beds, in closets and behind furniture to see if she is truly lost. Alternatively, if you saw your cat accidentally escape, check around your house as she may be hiding nearby, under a bush or porch for example. Understand that your cat will be stressed, afraid and silent so as not to attract the notice of predators; she might not come to you for this reason. Should she be unresponsive to your calls or move further away, set out some food and water. Remain in the area as you allow her to calm down and come out from her hiding place. If possible, place a trap-and-release cage outside.

How to Find a Lost Cat
Once you have determined your cat is not inside or around the home, leave food and water out and search the neighborhood immediately. Bring a picture and ask any pedestrians you meet if they saw your cat. Communicate any special features or markings and give trustworthy neighbors your phone number so they can contact you should they see your kitty. If an initial search yields nothing, return home with plans to search again later or the next day. Make posters, tell friends and family and even enlist popular websites to help spread the word. In addition to contacting all local shelters and veterinarians, visit these locations in person. Even if they say there is no cat matching your description, it is better to see for yourself than allow a misunderstanding over the phone to separate you from your kitty.