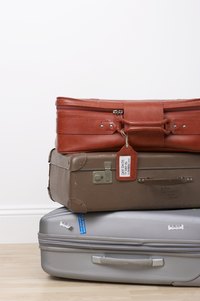 With airline fees on the rise, it's essential that travelers pack carefully to avoid additional charges when checking their bags. Your vacation can start off on the wrong foot if your bag is too large and the airline forces you to pay a hefty over-sized luggage fee at check-in. Before you fly, check out your airline's specific baggage allowance, as size restrictions vary from one airline to another.
Dimensions
Airlines set their own size restrictions, but many allow bags to be up to 62 total inches. This means that the bag's height, length and width must be less than 62 inches when added together. Airlines charge over-sized luggage fees for bags any larger, and these fees are in addition to standard checked baggage fees. Measure your bag carefully, add each measurement and double check your calculations to ensure the bag complies with the size requirements set by your airline.
Weight
Most airlines allow passenger bags to weigh up to 50 pounds. If your bag is any heavier than the airline's allowed weight -- even if it's just a pound -- you can expect to pay an overweight baggage fee in addition to the standard fee for checking your bag. Before you leave for the airport, weigh your bag to ensure it complies with your airline's weight restrictions. If it's too heavy, you might need to leave a few items behind or move small items to your carry-on bag.
Special Allowances
Size restrictions apply to the vast majority of passengers traveling for both business and leisure. However, many airlines have different size requirements for special passengers, including active U.S. military personnel. For example, United Airlines allows military bags to weigh up to 70 pounds instead of 50 pounds, and bags can be up to 115 total inches instead of 62 inches if the military member is traveling on orders for relocation. Additionally, some airlines allow frequent fliers or airline credit card holders to bring heavier bags than standard passengers.
Tips
Avoid bags that are excessively heavy while empty, as heavy bags are more likely to go over the airline's weight restrictions once filled. Leave hairdryers, clothes irons and towels at home if you plan to stay in a hotel, as most hotels provide these items. This will help you lessen your bag's weight. Look at your airline's oversized and overweight luggage fees in advance. It might be cheaper to check two separate bags than pay oversized fees for packing everything into one bag if you have a lot to bring.