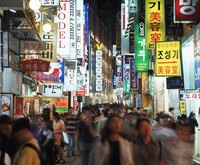 Seoul is a busy international hub that sees plenty of traffic from English-speaking tourists, but it's best to prepare yourself in advance by learning the most effective methods of communication. South Korea's tourism organization makes it easier for English-speaking visitors to find their way around, offering bilingual tour guides and a hotline for information and emergencies.
Survival Korean Phrases
Even if you don't know any Korean, it's useful to know a few "survival phrases" to help you through any tough situations or misunderstandings. "An-nyeo-ng ha-sim-ni-kka" is a polite way to say hello, and "an-nyeong-hi kye-se-yo" is goodbye. If you want to ask someone if he speaks English, say, "yeong-eo-ro mal-hal-su it-seum-ni-ka?" "Jal mo-reu-get-sum-ni-da" means "I don't understand," and "che-on-che-on-hi mal-ssu-em-hae ju-seyo" means "Please speak more slowly." Don't forget one of the the most important phrases when you travel: "Where is the bathroom?" pronounced "hwa-jang-sil-i eo-di i-sum-ni-ka?"
Buying a Public Transportation Ticket
Seoul's extensive public transportation system allows tourists to get around town without the need for a taxi. Purchase a single- or multiple-journey ticket at one of the vending machines located inside each subway stop; the machines offer English as an option. A single-journey paper ticket is non-rechargeable and only good on the subway system, while the multiple-journey tickets, or T-Money Card, is made from a durable plastic, is rechargeable, and can be used on the subway or bus. A few bus stations offer ticket vending machines, but you're more likely to find one in a subway station.
Korea's Travel Hotline
The Korea Travel Hotline, which you can reach by dialing 1330 within Korea, specializes in assisting international guests in the visitor's own language. Its lines are always open, and the staff can give you information about attractions and events as well as connect you to governmental staff for any problems you might encounter. If you experience an emergency in Korea, you can dial 1339, the national emergency number, but the dispatchers normally only speak Korean. You have a better chance of dialing 1330 and explaining your situation; the bilingual staff will be able to convey the emergency to the appropriate facilities more quickly and accurately.
Tour Guides and the Gangnam Tourist Information Center
The Korea Tourism Organization provides a service called "Goodwill Guides": A bilingual guide who volunteers service to international visitors. You can apply for a guide via the Korea Tourism Organization website; the organization requests between 10 to 30 days notice prior to your arrival. The service is free, but you're expected to pay for any incidental costs such as meals, transportation and entertainment admission fees.
In June 2013, Seoul opened the Gangnam Tourist Information Center, which specializes in visitors interested in Korea's pop culture and medical tourism. Tourists can find English information on these topics and the city itself on the center's first floor.