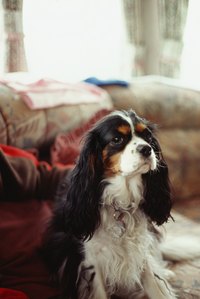 Choosing a dog dish means making several decisions, including bowl material, height, size and shape. The bowls should hold enough food and water so you're not refilling them several times a day, but when your dog has long ears, the bowls shouldn't be so large that his ears drag through the bowls. Dirty and moist ears can lead to health problems, but the right bowl can help prevent them.
Why Special Bowls
In addition to making a mess as your pooch drags his ears through his water and tracks that water onto your floor, getting his ears wet and dirty can lead to painful infections. Dog ear canals are long and prone to infection, especially when moist and damp. Long ears complicate this problem by covering the ear canal completely, keeping moisture and bacteria from escaping. When your dog's ears touch food or water, it can increase the moisture and bacteria in the ear canal and cause an infection.
Elongated Bowls
Bowls that are shaped like rectangles or narrow ovals help keep Rex's ears clear of what he's eating and drinking. These bowls allow him to eat in only one direction, as opposed to round bowls that let him approach from any direction. The narrow shape gives him room to put his mouth in the bowl, but it keeps his ears out to the sides. As his mouth enters the bowl from the front, his ears hang clear without touching the food or water. Narrow bowls with wide bases work best, preventing your dog from tipping the sometimes unwieldy bowls over.
Narrow Round Bowls
Narrow round bowls provide a similar service for your dog, giving him room to put his snout in without allowing his ears to enter. These bowls typically are deeper than standard bowls and might have sides that flare out toward the bottom to help guide long ears away from the interior.
Signs of Ear Trouble
Even when you take the utmost care to keep Rex's ears out of his food and water, ear infections can still develop. Look for yellow or discolored discharge draining from your dog's ears, and watch for him scratching his ears or shaking his head. If you notice any of these signs of an ear infection, take Rex to the vet for treatment.