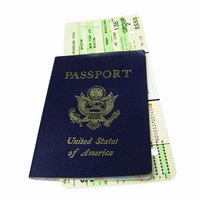 Passports are the essential identity document for international travel, but there's no legal requirement to hold one at the time you buy your tickets. Indeed, some U.S. Passport Agencies require proof of your imminent international travel before you can schedule an appointment to submit an expedited passport application. However, both the Transportation Security Administration and your flight operator will check your passport at the airport before you board your flight.
TSA Secure Flight Program
The TSA's secure flight program requires that airlines collect specific information about passengers at the time of ticket purchase. The required information is basic: your name, gender and date of birth. If you have a redress number, because you have filed an inquiry after being repeatedly singled out for additional security checks because of erroneous information held by the Department of Homeland Security, you should also provide this. The TSA does not require you to provide a passport number when you buy your airline tickets.
Name Accuracy
If you apply for a passport after you buy tickets for an international flight, ensure that you make your passport application in the same name that you have used when purchasing the tickets. The name you provide the airline will appear on your boarding pass, and if the names do not match when TSA staffers check your passport and boarding pass at the airport security check, you may be delayed or prevented from boarding the plane.
Passport Book or Card?
Although you can fly domestically with a variety of IDs, a valid passport book is the only acceptable identity document for international flights. Passport cards are only valid for use at land and sea border crossings within the Western Hemisphere Travel Initiative zone, which includes Canada, Mexico and much of the Caribbean. The requirement for a passport book for international flights applies to both adults and minors.
Destination Requirements
When booking international travel, check whether the country to which you intend has any passport requirements. While many destinations, most notably Europe's Schengen zone, do not require a visa, many others do. For these, you may have to obtain a visa before you leave the United States. Visa applications can take weeks or even months to process, so consider this when making your travel plans. Check the State Department's website for country-specific guidance to locate the most up-to-date information on your chosen destination.