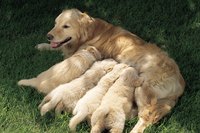 While your little puppy is cute, fluffy and healthy-looking, a good chance exists nonetheless that some not-so-pleasant worms are living in his gut. Liquid wormers that kill parasitic worms can be safely given to puppies as young as 2 weeks old. Getting your pups on a worming cycle can keep them from serious infestation.
Intestinal Worms
Liquid wormers work to treat parasitic worms making themselves at home inside your pup's intestinal tract. Hookworms, threadworms, whipworms and tapeworms are just some of the parasites that can thrive there. The most common worms in puppies are ascarids, also called roundworms; most puppies are born with them. Roundworms can give your puppy diarrhea and a pot-bellied appearance, but an infected puppy may show no signs or symptoms. Worms can be passed from mom to puppy, so all puppies should be wormed.
Wormers
Worming medicines, called anthelmintics, are medicines that kill parasitic worms. Many wormers are administered in liquid form. These liquid wormers are ideal for puppies since they don't have to be administered in pill form or be mixed with solid food, something a 2-week-old puppy isn't munching on yet. They are administered with a special syringe directly into the mouth of the puppy. The amount of medicine needed is dependent on the puppy's weight, and should be outlined on the directions with the medicine. Anthelmintics are toxic to worms but not to dogs.
Before Worming
No wormer is capable of wiping out all kinds of worms. It's important to dose your dog with medicine for the type of worm you're trying to eliminate. Before you give your puppy worming medicine, it's important for him to visit his vet. The vet can examine a stool sample to determine what kinds of worms are present and prescribe the appropriate medicine. It's important to make sure puppy is healthy enough to take a wormer. If he's sick, wormer could do more damage than good. Other health problems, such as respiratory infection, should be addressed before administering medication.
Worming Schedule
Since puppies can get worms from their mothers and their environments, its important in puppyhood to keep a strict worming schedule for the medicine to be effective. Puppies should receive their first round of wormer at 2 weeks old and subsequent doses again every two weeks until they are 8 weeks old. Until your pup reaches 6 months old, he should get a monthly worming. After he's 6 months old, he should be wormed only if the vet determines he needs to be. He'll need be checked annually for worms and treated accordingly.