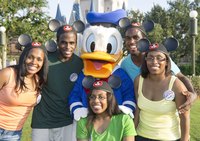 For budget-conscious Disney fans, April is a good time to take the family to see the World, as long as you avoid any Easter week overpricing. While other states may still be dealing with snow, mud and sleet, the weather at Walt Disney World couldn't be more different. April in the Orlando area can range from pleasant springtime to flat-out summer.
Weather and the Parks
Disney fans in April can enjoy soft breezes and moderate temperatures. If you're an early morning park-goer, you'll need a light jacket when you stand in line waiting for that rope to drop. Make it something you can roll up into your backpack, as you won't need it much past late morning. The rest of your day will likely be filled with classic summertime weather. It will be warm enough to ride the water rides by lunchtime without getting too chilly. You'll need sunscreen throughout the month since the sun is strong most of the day.
Packing for April
You don't have to be overly worried about packing choices if you'll be visiting Walt Disney World in April. The average afternoon high is in the low- to mid-80s, so shorts and T-shirts are perfect for walking around the park. In the evening it can get down to around 60 degrees, so pack a sweatshirt or light jacket along with some long pants for evenings around town. Rain showers are infrequent in April, so raincoats or umbrellas aren't really necessary. If you experience one of the rare afternoon thunderstorms, buy one of the reasonably priced ponchos sold all over the park. If you want to be really prepared, toss some travel ponchos in your backpack before you leave for the day.
Good Hair Weather
Florida is notorious for humidity, and anyone who has even slightly curly hair curses the air in Orlando for most of the year. Fortunately, April is one of the few good hair months for Walt Disney World visitors. The average humidity at lunchtime is 46 percent, giving you enough moisture not to feel like a desert, but not enough to turn your head into a puff of frizz. Leave the flatiron at home; Orlando is nice to hair in April.
Weather and Night Life
After a long day of walking around the parks, families often linger to watch the nightly fireworks shows, while others prefer more grown-up activities. Whatever you love to do after dark, it will probably be a bit chilly, but rarely outright cold. Most April evenings in the Orlando area see temperatures around 50 degrees, which means a light jacket or sweater will keep you warm walking from the car into a restaurant or night spot. Any restaurant in the area with outdoor seating will have outside heaters set up, so you won't have to worry about stray breezes. When it comes to the fireworks shows, children do well in sweatshirts and sweatpants.