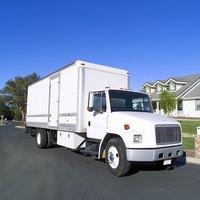 Usually, losing your house is a relatively long and drawn-out process. While you can delay having your house taken, you can also take advantage of the time to find ways to save your house and prevent the process from ending in foreclosure. Even if the lender does end up taking the title to your house, you may still be able to delay moving out.
Refinance Your Mortgage
If you are at risk of falling behind on your mortgage, but haven't yet done so, you may be able to refinance your loan. Many home loans are eligible for refinance loans that can lower your rate and your payment even if you don't have any equity. Loans like a Federal Housing Administration Streamline refinance or a Home Affordable Refinance Program loan may make your mortgage payment affordable. Usually, these loans have relatively simple qualification procedures, but you'll need to be current with your mortgage payments to qualify.
Pay Your Current Mortgage
Facing the possibility of a foreclosure can change the way that you look at how you spend your money every month. While making lifestyle changes by cutting expenses can be hard, you may decide that making those changes is easier than losing your house. Taking another job can be another way to pay your loan. If you have no choice but to go through foreclosure, you may even choose to stop paying other creditors so that you can pay your mortgage. While this will damage your credit, a foreclosure will as well, and at least you'll still have your house.
Modify Your Mortgage
Talk to your lender's loss mitigation department. Some lenders would rather work with you than take your house and resell it as a foreclosure. If you had a short-term problem that has resolved itself, a payment plan may help you to catch up on your missed payments. When you can't afford your payments as they are, a modification might be a better option. Modifications change your payment amount, your loan's length or your interest rate to make your mortgage more affordable.
Find Legal Inadequacies
If there's something legally wrong with your mortgage, you could have a court invalidate it. However, a simple typo usually won't be enough to invalidate a mortgage. Generally, you need to be able to show that your lender or broker took advantage of you or made an egregious error. If you choose to go this route, it's important to talk to a reputable attorney with a history of working in the industry since there are many less-than-ethical firms that have sprung up to take advantage of distressed borrowers.
Become a Tenant
If you can't avoid a foreclosure, you may be able to stay in your house. Some lenders are so overwhelmed that they can take months to ask you to leave. In that instance, it's actually in their benefit to have you stay, since a lived-in house is less likely to experience vandalism or other damage. In other cases, your lender can turn into your landlord, letting you rent the house back for a fair market rent.