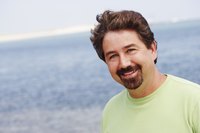 In recent years, the goatee has been at the forefront of men's facial hairstyles. A goatee is characterized as a mustache that joins a beard that covers the chin. The cheeks and jawline are clean-shaven. Constant care and precision trimming are crucial to maintaining the shape of a goatee.
Shaping
Your mustache should extend to but not beyond your smile lines. Men with long faces can pull off wider goatees. Narrower goatees are better for men with shorter faces. Shave your mustache and the sides so they're symmetrical. The beard on your chin -- which joins the mustache in thin vertical lines at the sides of your mouth -- should be as wide as your mustache and end anywhere from 1/2 inch to 1 1/2 inches under your chin. Shave off all other facial hair from the sideburns to the cheeks, below the chin, the neck and jawline.
Refining
After shaping your goatee, use clippers with a comb attachment to trim it to an even depth all over, anywhere from 3/16 to 3/8 inch. Because beard hair grows in many different directions, move the clipper vertically, horizontally and diagonally to make sure all the hair is evenly trimmed. Lastly, remove the comb attachment and use the bare clippers to just round off the corners of your goatee and trim away any stray hairs. Don't use shaving cream with electric clippers or trimmers.
Maintaining
Maintaining a goatee takes diligence and patience. Depending on how quickly your facial hair grows back, you'll need to shape and refine your beard regularly -- quite possibly every day -- unless you're going for an overall scruffy look, which very few men can pull off. Make sure to use shaving cream, aftershave and a facial moisturizer as part of your daily routine; otherwise, your face will become dry or develop ingrown beard hairs which can become infected. As for cleansing, shampoo and condition your goatee as often as you wash your hair.
If All Else Fails
If you just can't get the hang of free handing your own goatee, use a cosmetic pencil to trace the goatee size and shape you like on your existing beard. Start with an outline that's larger than you want. Shave your beard and see how it fits your face. If it's too large, mark 1/8-inch inside the border and shave it again. Repeat this process until you're happy with the outcome.