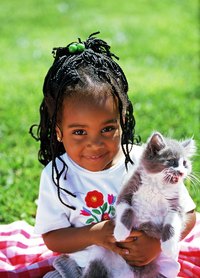 Before letting your kitty roam freely around your home, she should be fully weaned from her mother. There are several other considerations if you want to let her wander around outdoors, including whether she's fully vaccinated, spayed or neutered and able to find her way home. For her health and safety, keep your kitty indoors until she reaches at least 6 months of age.
Roaming Indoors
Kittens younger than 8 weeks old aren't fully weaned onto solid foods from their mother's milk and are still learning social behaviors from her. Keep them in a room near their mother until they are between 8 and 10 weeks old. If you're first bringing home your kitten at this age, confine her to one room of your home for the first week so that she doesn't become overwhelmed by her new environment and learns where her food, water and litter box are. This gives you time to kitten-proof your house by hiding electrical cords, small items she can swallow or poisonous houseplants. Once she's litter-trained, start to let her freely roam around your home.
Roaming Outdoors
Your kitten won't have all of her vaccinations, including her feline leukemia and rabies vaccination, until she reaches at least 4 months old, according to the Petfinder website. These vaccinations protect your little one from diseases including rabies, feline distemper and feline leukemia, which have no cure. Rabies is typically passed to cats by other infected felines or wildlife and is especially deadly and contagious to humans. Before she's allowed to roam around outdoors, your kitty needs all of her vaccines and she should also be spayed or neutered to prevent mating. These are procedures which your vet will perform between the ages of 2 and 6 months of age.
Outdoor Dangers
Accompany your kitten outdoors for a few days when she reaches at least 6 months of age to familiarize her with the area before allowing her to roam freely, recommends the Feline Advisory Bureau. For her safety, keep her contained in fully fenced-in or screened-in area to protect her from wild predators, car accidents and cruel strangers who may want to injure her. This way, she can still wander freely and enjoy the outside without the possible dangers that come along with it, recommends the American Society for the Prevention of Cruelty to Animals. Install a cat-door to allow your kitty to come back inside when she wants to rest or when she's hungry because nutrition is important for growing kittens.
Considerations
The average outdoor cat only lives between 2 and 5 years, while an indoor cat can live up to 17 years old, according to WebMD. Outdoor kitties are also prone to becoming infested with fleas and parasites, requiring regular treatment with medications to prevent these pests. These aspects make allowing your kitty to roam freely outdoors undesirable. In addition, some breeders and shelters require that you sign an adoption agreement which stipulates that you must keep your kitten indoors for the rest of her life after adoption. Instead, enrich your cat's indoor environment with toys, scratching posts and plenty of interaction with you, recommends the Humane Society of the United States.