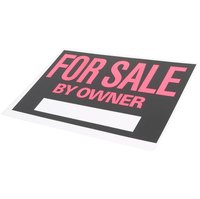 Homeowners usually choose to sell their own homes because they think that by doing so, they'll save money. But the complexity of real estate transactions puts this assumption into doubt. Laws governing the sale of real property have been enacted in every state. Not knowing what your state's laws are on a particular issue may prove to be very costly for you in the long run. Using an agent will also save you time and offer marketing assistance. Since 2011, more For Sale By Owners -- FSBOs -- have decided to use real estate agents than ever before.
The Sales Process
If saving money is your biggest concern, selling your own home may seem like a good idea. You may save on an agent commission which is usually around 6 percent of the sales price and that is split between the listing and the selling agent. However, if your buyer is using an agent and you aren't, you may still end up paying his commission, which could be around 3 percent. In this case, you still pay a commission, but you have no representation during negotiations and at closing, when the buyer's agent works for him, not you.
Factor in the cost and time of advertising and marketing your home. Depending upon what kind of media you use, whether print, direct mail or online, it can cost into the thousands of dollars. If you list with an agent, advertising and marketing costs are borne by that agent.
Lose Money Without an Agent
You could lose money by overpricing your home. Homes that are priced above the market may languish for months without catching the interest of a buyer. If you are under no constraints to sell your home quickly, this may not be a problem for you. FSBOs have a tendency to overprice their homes because they often aren't objective when it comes to pricing, worth more than the market indicates. An agent can assist you in pricing your home right for the market.
Let a Professional Do It
By listing your home with an agent, you will have the assistance of many agents in finding a suitable buyer. Agents use Multiple Listing Services -- MLS -- at no cost to you, to place your home before a wide range of buyers through their agents. Other services used by agents are open houses, direct mail, websites, networking and canvassing. According to the National Association of Realtors, FSBO sellers are on the decline. From 1991 to 2011, the share of home sellers who used a real estate agent or broker to sell their home increased from 77 percent to 87 percent. Over the same time period, the share of sellers who sold their home as a FSBO decreased from 19 percent to 10 percent.
Services Designed to Sell Your Home
Agents are in the business of knowing what it takes to sell a home. Your listing agent will assist you in the early stages of the process by screening prospective buyers before showing them your home. Listing agents also help you negotiate the offer, acceptance and contract leading up to the sale, including managing the inspection and any repairs needed before closing. They assist you in reviewing closing documents. They are committed to protecting your interest during the transaction from beginning to closing.