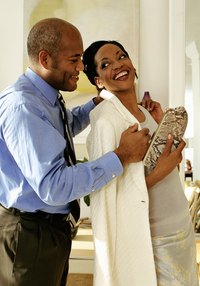 It's not every day you wear a formal gown, so selecting accessories can be a challenge -- factors like climate and how much you plan on standing, sitting or dancing can affect your choices. Besides making a style statement, the enhancements to your formal dress should show off your face, figure and skin. Simplicity is a cardinal rule here, but don't shy away from items that create contrast. "Matching your hat to your shoe to your bag, or your necklace to your earrings, has a tendency to look dated. Mixing up your accessories adds interest to an outfit, and can make you look much more modern and polished," says fashion consultant Stacy London, co-host of "What Not to Wear."
Jewelry
A formal event is a chance to show off your best jewelry or to buy something new. Choose between earrings or a necklace, but avoid both unless the pieces are small and understated. Too much sparkle can detract attention away from your face and figure -- remember that jewelry, like makeup, should complement the statement you are making with your gown. Think about the silhouette of your dress when selecting your jewelry. A narrow pencil skirt and drop earrings is a good combination. A full skirt looks better with hoops or a string of pearls. If you're in an elegant maxi dress, try a turquoise or amber cocktail ring. Rings and bracelets can be paired with either earrings or a necklace, but avoid thick bracelets if you have short arms.
Hair Accessories
If you are short on jewelry or don't have the right piece, take the opportunity to dress up your hair instead. Sparkly combs, barrettes, Asian hair sticks or beaded headbands can be strategically placed for height and volume. An updo held in place with a glittery clip or vintage bobby pins creates a youthful look that pairs well with a patterned dress. Avoid overstyling your hair with inexpensive flowers, bows or ribbons. Too much bulk and ornamentation subtracts from the class and elegance of a formal gown. If your event is a school prom where floral accessories are traditional, choose a color and flower type that suits the style of your dress. If you are in a black lace gown, for example, a simple pink or white orchid is ideal.
Scarves & Shawls
Many formal gowns expose shoulders and arms, so you need a cover up if it's cold or air-conditioned where you plan to go. Finding an appropriate outer garment is often the hardest part of accessorizing a formal gown, as you'd rather not cover your gorgeous dress with a jacket or coat. Look instead for a shawl or scarf that complements gown, and try to pair fabrics together in a pleasing way. If your dress is made from taffeta or satin, go for a big silk scarf long enough to tie in front. A smaller, more narrow scarf made from tulle or netting can be a style statement and also keep your neck warm. If you are in a lace or openwork dress, try a shawl crocheted with silky slender fiber or a cashmere pashmina in a solid color.
Purses & Pocketbooks
You don't want to take a big purse with you to a formal event, so look for a clutch or wristlet large enough for your debit card, cell phone and a lipstick. The proper purse can take an ensemble from good to great, so don't feel you have to use the same old clutch you bought for the homecoming dance years ago or the stiff satin piece you inherited from your great aunt. Look in thrift shops and flea markets -- you'll find purses with complicated bead work, embroidery and rhinestones at bargain prices. If you're looking to purchase a purse that will be useful with other ensembles after your formal event, a basic metallic clutch is a great go-to handbag. In most cases, avoid a cross-body bag that will interfere with the overall appearance of you and your dress.