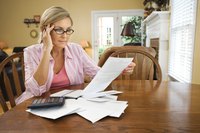 It may come as a surprise to many potential homebuyers that purchasing a house without much capital is more attainable than you'd think. Down payment assistance programs, zero-down loans and alternative financing methods can provide a buyer with the ability to get into a home without having to break the bank. Additionally, sellers who provide assistance to buyers in a crunch for cash can help pave the way to home ownership.
Down Payment Assistance
Many city, county and states offer down payment assistance programs for buyers who need a little extra help. These programs usually have specific qualifications, such as income restrictions, minimum credit score, rules of occupancy and location guidelines. Different programs may vary in details, but usually are offered in the form of a no-interest loan, silent second mortgage or grant. Contact your local social and health services office or county housing department to inquire about available programs.
USDA Rural Development Loan
The US Department of Agriculture offers a zero-down loan for buyers with low to average income. This type of loan is geared toward developing rural areas, and the subject property must meet area guidelines along with other qualifying factors. Not only is this loan zero-down, but no mortgage insurance is required - which reduces the borrower's monthly payment substantially. Like any other loan program, you must meet credit and income standards. Check with your local lender for details.
VA Loan
If you have a military background, the US Department of Veterans Affairs offers a zero-down loan to qualifying vets. This loan is provided by private mortgage lending institutions, but is backed by the VA - meaning that there may be help available if you fall behind in your payments. The loan isn't exclusive to first-time homebuyers and there's no pre-payment penalty to pay off the loan early. Additionally, VA loans require the seller of a transaction to pay for certain closing costs normally incurred by the buyer.
Seller-Paid Closing Costs
A buyer's closing costs consist of lender origination fees, appraisal fees, discount points and prepaid items. Having the seller pay these costs in addition to obtaining a zero-down loan can make the out-of-pocket cost of buying a house next to nothing. Because the normal closing costs incurred by a buyer can range from 1.5 percent to 4 percent of the purchase price of a home, having the seller pay this chunk at closing can save you a great deal.
Lease Option
If you convince a seller to allow you to do a lease-option, this may be another method for achieving home ownership without using capital. Usually a lease-option requires a sizable option fee, or non-refundable deposit. But certain homeowners may allow you to move into the home prior to closing, rent it for a specified amount of time and apply a portion of your monthly rent to the down payment. This allows budget-minded buyers to save for a down payment while paying only basic bills.