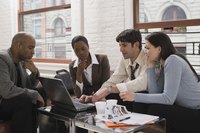 When your managers, support personnel and sales team work together to create sales and increase customer satisfaction, it may behoove you to consider team-based incentive plans. Unlike solo sales representative commissions that pit salespeople against each other and force them to compete, you'll foster effective teamwork when everyone reaps the rewards of additional sales.
Foster Collaboration
Employees are eager to work together and help each other achieve success when they share the rewards. They're happy to help salespeople complete contracts, answer customer questions and deliver the goods on time when they feel they're part of a team that recognizes their contributions.
Place Customers First
When employees aren't competing with each other, they can focus on providing customers with the best service available. The team can focus on the needs of the customer and not worry about what their coworkers are doing that might undermine their sales. For example, while you're out on a call and a client of yours calls in for a reorder or change, you can be confident they'll be taken care of by another member of your team. Then, when referrals occur and customers return for additional goods or services, the entire team shares in the profits, so the original salesperson doesn't even have to be present to receive her commissions.
Maximizes Resources
You can tap into all the skills of your entire team when you provide team-based incentive plans. Plans must be equitable and provide employees with compensation equal to their contributions. For example, salespeople who share commissions with customer service representatives know their clients will be well taken care of when they aren't around. Managers who share compensation incentives are more prone to provide exceptional training and mentoring. Service and delivery folks understand the attention they give customers will be reflected in their paychecks.
Easily Integrated
Few, if any, employees will argue with a pay raise. As long as you don't lower the base pay of employees when instituting a team-based incentive program and everyone understands how much of the bonus they'll share, you won't have fallout from your staff. Incentive plans are easily instituted; you'll just be adding income to those team members who participate. Portions should be arranged in advance so everyone understands the distribution process. You can set up a percentage of commissions that go to team members based on their level of work, or leave the whole pot for the team to distribute fairly among itself.