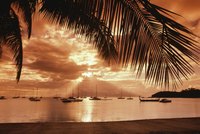 Purchasing a round-the-world plane ticket in economy can cost anywhere from a couple thousand dollars to $10,000 depending on the complexity of your ticket. Using points, you can book the most expensive around-the-world itinerary in first class for around 250,000 points plus a few hundred dollars in taxes, and save your money for exotic cuisine, once-in-a-lifetime experiences, and accommodations as you see the world.
Track and Transfer Your Miles
Begin by tallying up all the total miles and points you have available in every type of rewards account: credit cards, airline loyalty programs, and hotel loyalty programs. If you are short on miles needed to book your dream ticket – most programs require at least 160,000 to 180,000 miles for an economy ticket – transfer miles from your other accounts. Sign up for a point tracking website, such as AwardWallet and UsingMiles, to see all of your points and miles in one place. Most of these websites also show you which points can be transferred to other programs, and alert you when there are bonuses available on transferring, and other ways of earning miles.
Select the Best Ticket for Your Trip
Compare the total mileage of your outlined itinerary to the miles needed to redeem a ticket at that rate. If you don't have enough miles available, see if it's possible to use two or more round-trip tickets nested together with additional stopovers en route, or if a regional flight pass better fits your needs than an around-the-world ticket. Oneworld offers a number of regional passes, such as the Oneworld Circle Atlantic for travel throughout the North and South America, Europe and the Middle East, as does Star Alliance, such as the similar Star Alliance Circle Pacific for travel around the west coast of North America, Asia, Australia and Oceania.
Adjust Your Trip Goals Restrictions
Round-the-world tickets typically include a certain number of total flying miles, usually up to 34,000, or 39,000, but some tickets operate by segment, allowing an unlimited number of miles but no more than 16 flights. Look at where you would like to go and check your total mileage with a flight mileage calculator. Many airlines only allow travel in one direction, east to west or west to east, so if you are planning a lot of north-south travel, such as visiting Africa from Europe, Australia from Asia, or South America from North America, be sure to factor that into the order of your stops, as it can greatly affect your total mileage. Tweak your itinerary until it fits into the restrictions of the airline with which you have points.
Keep Your Itinerary Flexible
Airlines allot a certain – albeit low – number of seats per flight to round-the-world ticket holders and award bookings, so it can be very difficult to get a seat on the exact day you wish to travel between your two first choice airports. Check overland transit options and line up other airports you can utilize, such as flying out of New York City from one of the three New York metro airports, or taking a train to Boston, Providence, or Washington, D.C. and flying from there. If you can book as soon as seats open up, usually 330 days before departure, you'll get the best availability.