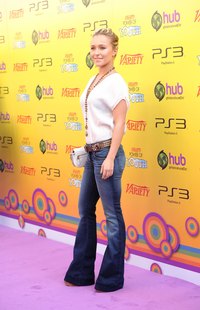 Whether you're below average height or just have short legs, finding pants that fit properly can be challenging. The wrong style only exacerbates the situation. While you may not have been blessed with long legs, new trends in pant designs are working in your favor. Some of the most fashionable styles of pants are in cuts and styles that work wonders for your body type.
Best Waistlines
The first thing to consider when pant shopping is the waistline. A low-waisted pant is your first no-no. For both guys or gals, a low waist will cause legs to look even shorter because there is less fabric from top to bottom. A mid-rise pant is your spot-on fit. Your pants should hit right at or just above your belly button -- not even an inch below. The higher rise adds length to your look. A high-waisted trouser is the perfect solution if you have short legs and a long torso. The extra fabric between the crotch and the waist visually adds the inches you lack in legs. Just be sure to keep your shirt tucked in or you lose the positive effects this pant style can have on your body type.
Best Hem Lengths
Many mainstream brands offer petite versions of their best-seller pants. If you have short legs, this is the fool-proof route for everything from jeans to suits. Look for pant hems that have a small cuff or no cuff rather than large ones, which abbreviate the pant leg. Women with short legs should feel free to try a wide-leg trouser. Just wear them with a high-heel and a form-fitting top to create a long, yet shapely silhouette.
Best Cuts and Colors
Straight or boot-cut pant styles are a better option for short legs than tightly tapered styles. Pants that taper to a tight close at the ankle emphasize the length of your legs; this is not what you want your pants to do. A straight leg that hits the floor gives the illusion of an added inch or two. To add the most length to your look, wear a monochromatic or tone-on-tone outfit. For instance, go for a dark shirt and shoes with dark pants.
Shoes Matter
If your height is a challenge to your style, you simply must think of your shoes as an extension of your pants. For men, closely match the color of your dress shoe to your pants. Opt for a more streamlined style like a dark, sleek, leather brogue. For women, obviously heels add physical height, but they also add visual length when you match the color of your shoes to the color of your pants. Alternatively, nude pumps are a safe solution for any pair of pants because they don't break the line of the pant the way a colorful shoe does.