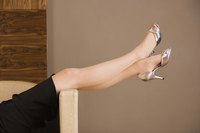 When you're putting together a wardrobe you may be drawn to clothing that helps conceal some of your problem areas -- like extra weight around your stomach or larger hips. But if you really want to feel confident in your clothing, it's just as important to include items that showcase your assets. If you're lucky enough to have long legs, there are several staple pieces that you should have in your closet to help play them up. When you pair them with the right pieces, you're guaranteed an outfit that makes the most of your gorgeous gams.
Go Above the Knee
Choose the right hem length when you want to showcase your legs. Long skirts and maxi-style dresses can look flattering on women who are tall or have long legs, but they don't really do the job of accenting them because they cover the legs up. Hems that hit at midcalf are even worse because they cut off the legs and make them appear shorter. Instead, opt for a dress or skirt that hits at the knee or a couple of inches above. A trim pencil-style skirt or dress is an ideal option because it further elongates the look of your legs.
Cover Up Top
Be sure to balance out the rest of your outfit. Even if you showcase your long legs with the right length dress or skirt, the effect may be diminished if you choose the wrong top. When you want your legs to be the main focus, make sure that other features don't compete with them. That means you're better off choosing a top that keeps you mostly covered up. Avoid sleeveless styles that expose your arms and deep, plunging necklines that highlight your cleavage. Three-quarter sleeves and a slight V-neck are ideal options to keep the focus on your legs.
Keep It Skinny
Don a pair of skinny jeans and your legs become the stars. Skinny jeans can be tough for some women to wear, but they're an ideal choice when you want to showcase long legs. Because they cling so closely to the body, they emphasize the length of your legs and create flattering curves. Be careful -- some skinny jeans run somewhat short. Be sure to find a pair that reach the ankle so they don't cut off your legs and make them appear shorter. If you're not comfortable with form-fitting skinny jeans, straight-cut jeans are an ideal alternative.
Go With Texture
Pick textured material In the fall and winter. When it gets chilly, you usually can't wear a dress or skirt without a pair of stockings or tights to keep warm -- so showcase your long legs with hosiery that helps to highlight them! Opaque tights in a bold color like red or purple can definitely do the trick. If you prefer a subtler look, opt for a neutral pair of tights that have a striking textured pattern to draw attention to your legs.