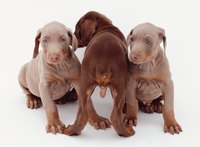 Your Doberman puppy should be active, curious and energetic. After seven weeks, the personality should emerge and the dog's curiosity should be getting the better of him, causing him to get into mild mischief. However, if your Doberman puppy fails to exhibit these classic curious puppy behaviors, it's possible that he is harboring one of the small number of health ailments that affect the breed during puppyhood.
Cervical Vertebral Instability
Abnormal growth of the fifth, sixth and seventh vertebrae causes compression and rupturing, leading to impeded nerve transmission to the legs. Although this disease can manifest itself at any age, a diet high in protein is likely to cause early onset in puppies. A Doberman suffering from this condition will display a number of symptoms, including a distinctive "crouching" gait, leg instability and an inability to move the paw fully while walking, often resulting in the dog scuffing the paw along the floor. Your veterinarian typically will recommend steroid treatment to reduce swelling in the first instance and failing that, he or she may recommend surgery.
Intestinal Worms
Doberman puppies are at risk of both types of roundworm, toxascaris leonia and toxocara canis. Both infestations causes similar symptoms, which include a cough, dull coat, constipation, anemia and in severe cases, intestinal blockage. Because roundworm can be contracted in the uterus and via mother's milk, it's essential to vaccinate your Doberman puppy. A standard oral worming treatment should kill any roundworm larvae present in your puppy before they get the chance to migrate through the respiratory system and into the digestive system.
Parvovirus
Parvo is a potentially fatal virus that attacks the intestinal lining. Doberman puppies are susceptible to this condition. Initial symptoms include loss of appetite, vomiting, diarrhea with white mucus, lethargy and depression. The easiest way to avoid your Doberman puppy picking up this communicable disease is by avoiding exposure to potential host environments, such as boarding kennels until the dog is old enough for the vaccination to be effective, generally between the ages of 6 and 8 weeks.
Dilated Cardiomyopathy
Although most common in adult Dobermans, other health issues, such as parvo, can bring forward the onset of this heart muscle disease, which causes both the upper and lower chamber of the heart to become enlarged. Symptoms of this quite serious condition include lethargy, shortness of breath and transient loss of consciousness. This condition is incurable, but your vet can treat the symptoms with drugs, paying particular focus to the use of diuretics to reduce fluid buildup in the lungs and using drugs to slow down the heart rate.