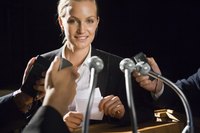 A crisis is an unexpected event that can cause serious internal and external damages to your company. By its very nature, a crisis is difficult to predict and plan for, which is why many are unprepared to react when one occurs. Preventive measures are just as important as how you react in a crisis. With preventive plans in place, you ensure employees will react appropriately and your company will minimize the damage.
Identify Potential Risks
Every organization has the potential to find itself in a crisis situation. A social service agency may serve as the target of a dissatisfied client, for example, or a manufacturer can unwittingly cause an environmental disaster. Disgruntled employees may be the source of crisis situations in seemingly safe business environments. A proactive approach to crisis management requires employees to watch for clues of impending danger to prevent harmful actions from taking place. Training your staff to watch for signs of potential danger can save a life or prevent someone from getting hurt.
Monitor Issues
Without careful monitoring of the potential dangers in your business, you may be caught off guard when something does happen. Proactive steps include listening to employee and customer complaints, watching social media platforms in which your company participates and dispelling rumors in the press or online as soon as they appear. A crisis doesn't always have to include equipment failures or stray gunmen. A sudden drop in sales or a boycott of your company due to a fabricated online story can create a crisis that you may have difficulty recovering from. Pay attention to what people are saying about you and your products or services to head off PR nightmares that could cause a financial crisis.
Handle Consequences
Money or human safety is almost always at the core of disasters. When you have a proactive plan to cut off crises before they occur, you can reduce your risks. Whether you institute security systems in your building, hire security guards or install alarms on potentially dangerous machinery, the steps you take to prevent crisis situations will save you from paying out insurance claims, losing customer trust and replacing equipment. At the same time, a public relations plan that involves reacting quickly, honestly and positively to a crisis can reduce the amount of harm done to your company.
Manage Fallout
Undergoing a crisis is traumatic enough for you and your employees. Without a clear plan of action to deal quickly with crises when they happen, you may unintentionally create additional damage. Part of a proactive approach to crisis management includes preemptive plans that dictate how you and your staff will react. Anticipating danger and safety issues is not a negative approach to business, but rather a prudent use of resources. While you can make modifications to reduce the odds of various crises from occurring, you can't plan for every scenario. That's why a trained spokesperson and crisis management team is vital. Appoint those positions as part of your crisis management planning efforts to reduce the fallout from a crisis.