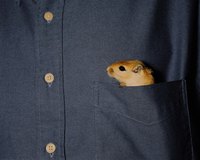 If you're planning a move to the Golden State, you might not be able to bring every member of your household if your pet population includes gerbils. That's because environmental and agricultural officials fear that, if set loose, gerbils could threaten native species and harm crops if they establish breeding colonies.
Gerbil Habitat
Native to Mongolia, wild gerbils, or Meriones unguiculatus, dwell in family groups. They build extensive burrows in sandy soils. Female gerbils, sexually mature at the age of six weeks, produce up to three litters annually. The number of "pups" averages between four and seven, although litters of 12 are not uncommon. They consume a wide variety of plants and grains. According to the Animal Diversity Web, escaped domestic gerbils may establish themselves in new areas, posing a threat to native wildlife "through competition and disease introduction." They can also serve as disease vectors.
Regulations
The California Department of Fish and Wildlife notes that the state is home to the nation's largest food and agricultural economy, as well as a place containing extraordinary biological diversity. Since 1895, the state has restricted the importation and ownership of certain species for resource protection. Under Title 14 of the California Administrative Code, Section 671, gerbils are listed among the species unlawful to "import, transport or possess" without a permit from the CDFW, but permits are not issued for pet-keeping purposes. Under the regulations, gerbils fall under the category of detrimental animals, species listed because of possible threats to agricultural interests, native wildlife or public health and safety.
Penalties
If you're caught with a gerbil in California, or another unlawful pet, you could be subject to a civil penalty ranging between $500 and $10,000 per violation. Gerbil possession is a misdemeanor punishable by up to six months imprisonment in the county jail or a fine not to exceed $1,000.
Gerbil Alternatives
If you enjoy the company of small rodents, don't despair. Other "pocket" pets are legal to own in California. These include domesticated mice and rats, golden and dwarf hamsters, guinea pigs and chinchillas.
Other Illegal Pets
Gerbils aren't the only relatively common household pets you can't keep in California. Ferrets are also forbidden. As members of the weasel family, they will kill poultry and other birds and small mammals if let loose, including endangered and threatened species. The Quaker, or monk, parakeet is also prohibited, as loose birds often set up colonies, crowding out native bird populations. The small, large-eared fennec fox, a North African native, can't be kept as a pet in California. Nor can sugar gliders, small rodents similar to flying squirrels.