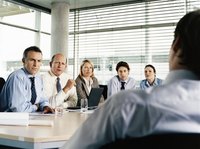 Someday, you or the other people at the top of your business won't be there any more. While the hope is that the change will occur in a gradual and planned fashion, that isn't always the case. Lacking clear policies and procedures for succession planning leaves companies in a lurch when the time comes to select new leadership.
Getting It Done
In every type of organization, succession plans involve creating a long-term vision for the organization so that it can determine what type of leadership it needs in the future. In family-run companies, there is the additional challenge of building a succession plan in the face of larger issues of family dynamics -- like deciding which child should get the job, if any. Given that many organizations put off succession planning until it is too late, simply getting started is a value in and of itself.
Lack of Experience
Succession planning isn't a simple process. Talent to take over C-suite and executive level positions at companies usually needs to be built over time. Many small business leaders don't have experience with identifying the special type of talent required for a corporate leadership position and, if they do, may lack the ability to nurture that talent into the position. For these businesses, devising a set of policies and procedures frequently involves bringing in outside consultants that provide that expertise as a part of writing the process.
Transparency
Succession issues can destroy a company as different executives wrangle for a newly-open position. Having a policy and procedure in place creates transparency so people inside and outside the company can have some sense of who is being groomed for the job. This soothes outsiders while also helping employees inside the company to maintain realistic expectations. Done right, it can even create a sense of excitement about the future changes that the company will experience.
Retention
Succession planning doesn't only have to deal with the C-suite. A company with a succession plan can apply it to lower levels of the organizational chart. At those levels, it provides a roadmap for how workers can advance within the company. Helping employees see their jobs as a part of an overall larger career plan doesn't just benefit them by creating opportunities for promotion. It also motivates them to stay at the company, reducing expenses related to employee turnover.