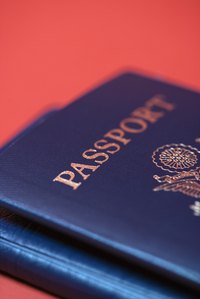 U.S. territories like Puerto Rico, the Northern Mariana Islands, Guam and American Samoa are considered part of the United States for identification purposes, meaning you won't need a passport to return to the United States, assuming your journey is direct. As a result, if you're a U.S. citizen, the range of acceptable forms of identification is much wider than is the case for international travel, for which a passport is compulsory for virtually all destinations. If you're a citizen of an overseas country, you'll need to verify your identity and citizenship with a valid passport for any journey starting in a U.S. territory.
Primary ID
Travel from a U.S. territory back to the United States requires a valid photographic ID issued by federal or state government, although within this category, the Transportation Security Administration will accept a fairly wide range of documents. Both passport books and cards are acceptable, while you can also use a "trusted traveler" card, such as NEXUS or Global Entry. Driver's licenses provide another option, whether state-issued or DHS-enhanced, and TSA staffers will also accept a permanent resident card, border crossing card or a Native American tribal photo ID.
Secondary ID
If you don't possess any of these IDs, you've lost them, or forgotten to bring them with you when you travel, you'll still be permitted to continue your journey to the United States from a U.S. territory so long as TSA staffers can confirm your identity and citizenship. You'll need to be able to show two alternative IDs, including one confirming your date of birth, address or gender. Ideally one ID should bear your photograph. Possible options include a birth certificate, Social Security card or credit card. Bear in mind that you're likely to be delayed at the security check while staffers attempt to confirm your identity.
Children
Identification requirements for children are much less onerous. In fact, minors younger than 18 do not need an ID for domestic flights; holding a boarding pass for their flight is enough for them to be allowed onto the plane. However, it is not advisable to travel without ID for your child, so you might wish to bring their birth certificate with you, or their passport if they hold one.
Indirect Travel
If you are traveling from a U.S. territory to a third country, you will need to fulfill the identification requirements for that country. For example, although as a U.S. citizen you don't need a passport to visit Puerto Rico, if you returned to the United States via Puerto Rico's neighbor the Dominican Republic, you would need to conform with Dominican ID requirements by carrying a valid passport. Always check the entry requirements for any international destination you plan to visit on the State Department website well in advance of your departure date.