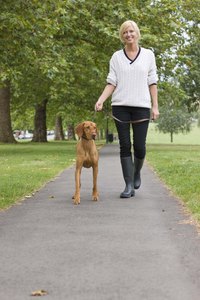 Think of the pavement as one big nail file. As your furry family member goes cascading down the walkway, he's getting a mini manicure and pedicure. While a little filing here and there can certainly control the length of his nails, too much playtime on a rough surface can be problematic.
Problems with Pavement
If you took a file to your nails and kept grinding away, eventually your nail bed would wear down and you'd feel some pain. The same sort of thing happens to your pooch. If you continuously walk him on sidewalks or an asphalt street, or if he plays in a yard that is covered in concrete instead of grass, it is possible for his nails to drastically wear down. Eventually his nails can become shorter than they should be.
What Happens
As your fur ball's nails get shorter and shorter, the quick of the nail becomes exposed. When this happens, his nails get very sensitive every time they hit the ground -- the quick is full of tiny vessels and nerve endings. Plus, since his footing may be off, he might be prone to developing blisters or abrasions on the pads of his feet, causing even more pain.
Signs of a Problem
Unless your canine buddy spends hours on end patrolling around on the pavement every day, it isn't likely that his nails will get dangerously short. But if it does happen, he may start limping around or favoring certain paws over others. In some cases, he may bleed from the quick of his nails if they get too short. He might also walk slower on his evening walks, refuse to go on a walk or stop playing when he's outside. After all, being on all fours isn't comfortable, so he'll be more likely to spend as much time as possible off of his tootsies.
The Healing Process
If you see any blood, oozing or fluid coming from your beloved pal's feet or nails, take him in for an evaluation at the vet's office. Draining fluids means that the quick is open or that another type of wound is prevalent, possibly requiring medication. Without proper treatment, his nails could become infected. By keeping him away from rough surfaces -- walking on grass or carpet instead -- he should recover over time, but it may be helpful to slip some dog booties or socks on his feet to soften up any walking surfaces.