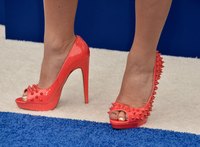 Pumps have so many fashion uses you could probably wear them all day, any day, especially if business is your dress code. On the other hand, if you're going to be walking around in them a lot, they need to be comfortable. In spite of one shoemaker's claim that you can play basketball in their brand's pumps, it pays to be selective if comfort is your goal.
Heels
Podiatrists agree heels should stay in the 2-inch range or lower. Any higher, and your foot is forced into an unnatural position, placing stress on the ball and risking ankle sprain. The spindly stiletto is sleek and attractive, but a more substantial -- even chunkier -- heel offers more grounding. If you like a slender heel, try a kitten heel or one with a built-in wedge for stability. Also, pay attention to where the shoe hits on the back of your heel; if the leather is inflexible and rubs you the wrong way, it can cause blisters or "pump bump," a bone deformity. Slingbacks can cause similar friction. For comfort, look for performance pumps which are made from softer material with reinforced heels that fit well.
Toes
For a fashionable look, pointy toes seem to beat square or round toes. But the most fashionable looks aren't always the most comfortable. Crowded toes, especially the big toe, can cause bunions, hammertoes, corns -- not to mention pain. Look for a round toe with plenty of room, and don't forget to consider shoe width when you're trying a new pair for size -- wider width may give you the comfort you're looking for. You'd think peep toes might be a shoo-in for comfort, but that often isn't the case. The toe box might be just as narrow and abrasive as shoes with toes. If you don't like the boxier styles, Web MD suggests, look for styles that don't get pointy until they've extended past your toes.
The Right Fit
Since no two feet are alike -- including the two of yours -- finding that comfortable pair of shoes might take some leg work. Have your feet measured before you try on shoes. Make sure there's a thumb's width between your big toe and the shoe's toe. For heels, "Ladies' Home Journal" says, you might need a size larger than usual . Comfortable, well-fitting shoes are available in various price ranges, so don't assume the top-tier designer brands will be more comfortable than cheaper ones.
Designed for Comfort
A key word when you're looking for comfort: padding to soften the blow when the shoe hits the ground. Says NBC, "press your thumb along the ball of the foot area and the arch. If your thumb springs back, there's good padding." Some shoemakers advertise padded or shock-absorbing soles. You can add padding to old favorites with gel or silicone inserts. As for one-off tricks, such as taping the third and fourth toe together: You can try it, "Glamour" says -- but it doesn't especially work.