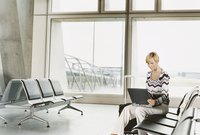 In the United States, carry-on bag limitations are set by the Transportation Security Administration. Each airline is free to set its own size restrictions on carry-on bags and to decide whether to charge a per-bag fee. Because international airlines are not governed by the TSA, different rules sometimes apply. Restrictions can change at any time, so check with your airline shortly before your trip for the latest information.
U.S. Carriers
On U.S. airlines, you are limited to one carry-on bag and one small personal item, such as a purse, briefcase or laptop bag. Maximum carry-on size varies between airlines, depending on the configuration of the aircraft. On Delta, United and American Airlines, your carry-on must be no bigger than 22 by 14 by 9 inches, including handles and wheels. Frontier, Southwest and AirTran allow bags up to 24 by 16 by 10 inches. Most carriers do not specify a maximum size on your personal item, but it must fit underneath the seat in front of you.
Medical Supplies
Medical supplies do not count as carry-on baggage, and these include wheelchairs, walkers and other mobility aids; CPAP machines; and bags filled with medications or medical supplies. Note that if you mix other items, such as books and pillows, in with a bag of medical supplies, then the entire bag counts against your carry-on limit. Pack your medical supplies in a separate bag.
Other Exemptions
Specific exemptions vary by airline but generally include food for the flight, a book or magazine, jackets and other outer garments, and a child safety seat for a child not riding in a parent's lap. Some airlines also permit you to carry on an umbrella, a diaper bag or other small items. Check with your airline shortly before your trip for the latest information.
Additional Restrictions
Because of space limitations, carry-on baggage is sometimes prohibited or severely restricted on very small planes. For example, Alaska Airlines flights operated by Horizon or SkyWest and Delta Connection flights with fewer than 50 seats prohibit larger carry-on bags. Each airline has its own procedure for gate-checking items that would otherwise be carried onto the flight. Check with your carrier for details.