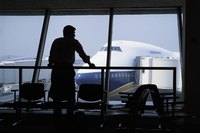 It's normal to feel nervous before flying -- after all, we live on the ground, and traveling hundreds of miles per hour through the air can seem unnatural. That doesn't mean you have to live in fear of flying, though. Statistically, air travel is safer than staying grounded, and your odds of being in a catastrophic crash are minuscule.
Never Safer
Statistically, as of 2013, commercial air travel is safer than ever. According to statistics from the Aviation Safety Network cited in the New York Times, 2012 was the safest year for air travel since 1945 -- before commercial jet travel was popularized. There were only 23 deadly accidents in 2012 -- considerably fewer than the 42 crashes in 2000, helping demonstrate that, as time goes on, air travel gets safer and safer.
Fatal Crash Odds
Even when plane crashes make the news, you can always remind yourself that serious accidents are few and far between, and that even if you fly often, you're at a negligible risk. As of June, 2009, the risk of being involved in a fatal plane accident was only one in 23 million, and has since gone down to about one in 45 million. According to M.I.T. statistics professor Arnold Barnett, you would have to fly every single day for about 123,000 years before being involved in a fatal plane crash.
Other Travel Comparisons
Air travel is considerably safer than driving, and while both generally get safer every year, according to Forbes, airline safety improves at a faster rate. The magazine reports that in the United States, typically more than 30,000 people per year die in automobile accidents. Between 2009 and July 2013, less than five people died in airplane crashes. By comparison, over that same period, more than 120,000 people were killed in car accidents.
In Good Hands
If you feel apprehensive about putting your travel safety in someone else's hands, don't worry -- airline pilots are highly trained and chosen for traits that make them reliable and otherwise well-suited for the responsibilities of flight. Airlines choose pilots based on their abilities to remain calm and focused during high-stress situations and on their having completed hundreds of hours of flight training.