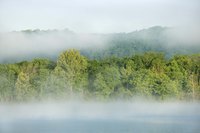 The Trail of Tears refers to the emotional devastation and lives lost during the 1830s roundup and forced evacuation of Native Americans from their homeland in the southeastern United States to a group of reservations then known as Indian Territory in present-day Oklahoma. The Cherokee Nation roundup began in Red Clay, Tennessee, near Chattanooga. Some Cherokees were marched north on an overland route, while others were taken south by water.
Tennessee Trail of Tears History
The story of the Trail of Tears begins with the discovery of gold on Cherokee land in Georgia in 1829. Congress passed the Indian Removal Act in 1830, and the Cherokees filed a lawsuit to block it in 1831. Despite intense negotiations, in 1835 a small group of Cherokees signed the Treaty of New Echota, agreeing to move to Indian Territory, against the will of the majority of their people. In 1838, the Cherokees were forcibly rounded up by U.S. military troops. Divided into 16 detachments of about 1,000 people each, they began the long journey to Indian Territory on June 6, 1838.
Land Route and Water Route
Three groups of Cherokees were placed on boats and taken to Indian Territory by water. The arduous journey followed the Tennessee, Ohio, Mississippi and Arkansas rivers. One group arrived by mid-June, while two suffered drought and disease and did not arrive until late summer. The rest of the Cherokees were forced to march along existing roads. Some departed in June, while the rest were held until November. Most traveled north through central Tennessee and then through Kentucky, Illinois, Missouri and Arkansas, although a few were taken on alternate southern routes. Food supplies were of poor quality and often ran out, and illness and poor weather claimed many lives. The state of Tennessee estimates that 4,000 Cherokees perished along the Trail of Tears.
Historic Sites
The National Park Service recognizes 13 historic sites in Tennessee that played a role in the Trail of Tears. Four sites are located in Chattanooga, including the Browns Ferry Tavern site, which is not open to the public. Other sites that are spread across the Trail of Tears include a 2-mile section of the original trail, which now lies inside David Crockett State Park near Lawrenceburg.
Commemorative Vehicle Tour
The National Park Service has developed a commemorative vehicle tour route that closely matches the original path of the Trail of Tears. The route passes by designated Trail of Tears historic sites throughout Tennessee and surrounding states. Official route maps are not available through the National Park Service, but driving directions to each official site can be found on the park service website. The route is marked by National Park Service logo signs, and visitor bureaus in towns along the way can also point you in the right direction.