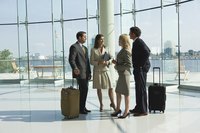 Rushing to the airport in anticipation of your flight and finding your gate can be stressful enough, but if you're not familiar with your airline's rules for carry-on luggage, your trip can get off to a rough start when you try to board. Although each airline has a unique set of carry-on luggage regulations, you'll typically find a similar set of guidelines industry-wide. If you hope to board your flight with two carry-on suitcases, though, you'll likely be disappointed.
Carry-On Regulations
Virtually all airlines permit travelers to board the plane with only one piece of carry-on luggage. The exact size of the carry-on bag varies by airline; before you travel, consult your airline's website to ensure your bag meets the airline's regulations. On Southwest Airlines, for example, carry-on bags must not exceed dimensions of 24 by 16 by 10 inches, but on American Airlines, the maximum carry-on size is 22 by 14 by 9 inches.
Personal Items
Although airlines won't permit you to travel with two carry-on bags, you're typically allowed to board with a personal item in addition to your carry-on luggage. The regulations for this item vary by airline but, in general, the term "personal item" applies to such items as a purse, laptop bag, camera bag, briefcase or diaper bag. Your personal item should be small enough to easily fit into the storage compartment above your seat or beneath the seat in front of you. Airlines don't typically specify the maximum dimension of personal items and reserve the right to ask you to check the item if it's too large.
Other Items
In addition to your carry-on bag and personal item, many airlines allow you to travel with one additional item. This specific nature of this item varies by airline, but items like jackets, umbrellas, food, drinks, pillows, blankets, strollers, wheelchairs and crutches fall under the header of "other items." If you're unsure that your airline will allow you to board the plane with a specific additional item, contact the airline before your flight.
Check the Rules
Before packing your carry-on bag and preparing your personal and additional item to take on your flight, familiarize yourself with the Transportation Security Administration's list of prohibited items. Doing so will avoid delays before boarding your flight. Although the TSA's regulations are lengthy, avoid including such items as sharp objects, flammable objects, tools and sporting goods in your carry-on bag. When it doubt, contact the TSA for clarification or pack the object in question in your checked luggage.