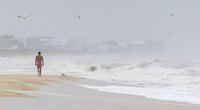 St. George Island, a mostly undeveloped barrier island between Apalachicola Bay and the Gulf of Mexico off Florida's northwest coast, is home to pristine beaches, prime saltwater fishing and attractions such as St. George Island State Park and the Cape St. George Lighthouse. St. George's accommodation options include campsites, inns, rental houses and condos. For those who wish to fly in, the island has one small airport for private planes, and three others are within a 30-minute drive. The closest airport serviced by passenger airlines is Tallahassee Regional Airport, approximately 75 miles northeast of the island.
St. George Island Airport
The St. George Island Airport is a privately owned airport inside the gates of St. George Plantation, a real estate development near the middle of the island -- but the airport is open for public use. Owned by the St. George Plantation Owners' Association, the unattended airport has an asphalt runway that measures 65 feet by 3,339 feet. If you're not a property owner in the community, you should call and request ground access prior to your trip. Paying a landing and tie-down fee allows use of the airport's tie-down spaces, restrooms and other facilities. Because the island has no cab or car rental agencies, arrange transportation from the airport ahead of time.
Apalachicola Regional Airport
Apalachicola Regional Airport, a public airport less than 15 miles northwest of St. George Island, has three 150-foot-wide concrete runways measuring 5,251 feet, 5,271 feet and 5,425 feet in length. The airport has no control tower, but does have a small facility managed by Crystal Air that includes fueling and maintenance services, short- and long-term hangar and tie-down spaces, rental and courtesy cars, a waiting area and free Wi-Fi.
Carrabelle-Thompson Airport
Carrabelle-Thompson Airport in Carrabelle, about 21.5 miles northeast of St. George Island, is a small public airport with one asphalt runway that is 75 feet wide and 4,000 feet long. The unattended airport, which lies along the southern edge of Tate's Hell State Forest, does not have a control tower but does have fueling facilities.
Dog Island Airport
Dog Island, a 1,850-acre barrier island mostly owned by conservation groups, is 3.5 miles southeast of Carrabelle between St. George Sound and the Gulf of Mexico. The island, reachable only by boat or plane, is home to the Dog Island Airport, a private facility owned and managed by the Dog Island Conservation District. Public use is allowed, but you need permission to use the airport before landing. The airport, which is unattended and has no control tower, has a turf runway that measures 120 by 2,700 feet. The only accommodation on the island is the beachfront Pelican Inn, which has eight rooms. Each room has a Gulf view, a full kitchen, and balcony or deck. Guests must bring food and drinking water, because Dog Island has no stores or restaurants.