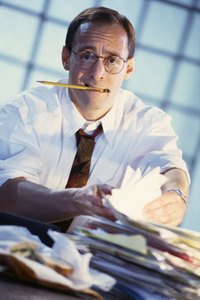 Documentation is necessary to conduct any business, whether it's small or big, and it's a useful source for keeping track of transactions and projects. Small businesses often have a lot of small transactions, and it can be difficult to track obligations and validate every transaction if they're not recorded in a defined format. You need documentation on every aspect of your operations because it helps you monitor and evaluate the progress of your business, provide supporting evidence, prepare financial statements and identify the source of receipts.
Significance
Every entrepreneur or small-business owner needs to track business progress to ensure various transactions and operations are executed as planned. Proper documentation provides a complete summary of a business and helps you make improvements as the business grows. For example, you must document budgets for business processes. You can then evaluate employee and business performance based on these documents. Your evaluation can help you design new strategies for growth and identify needed enhancements in business procedures and improvements in employee performance.
Permanent Files
Permanent files are documents you keep for an indefinite period. These include business policies, charts of accounts, insurance policies, employee pension records and real estate records. Keep tax records permanently. You can use past records to help you with current tax reporting to the Internal Revenue Service, and you might need to make amendments. Keep records of your assets such as buildings and company vehicles in your permanent file for as long as you have the property. If you get rid of the property, you still should keep documentation of it for another four years. If you have employees, keep benefit and pension plan information indefinitely.
Policy Files
It's crucial that you maintain policy files to ensure that the business conducts its activities in accordance with ethical standards and relevant laws and regulations. For example, an employee handbook might serve as a human resource policy file. It likely contains the company's expectations for employee conduct. It also might address the company's ethical policies, addressing the requirement for employees to maintain integrity, fairness, respect and honesty while conducting business activities. It also might include customer service policies that deal with the employees' attitude toward customers. Specific departments or functional areas maintain their own polices. For example, the accounting and finance area might have policies on the treatment of financial statements, month-end closings, vendor payments and compliance with tax laws.
Financial Records
Whether you choose self-made spreadsheets, special software or a paper transaction book, financial documentation is crucial for your business' survival. You'll keep many financial records, and they'll serve as supporting documentation for business-related transactions. Broadly, they include payroll records, insurance contracts for your property, and, if you're a manufacturing business, inventory register. You also need fixed-asset register and plant and equipment documentation. Books of accounts receivable and accounts payable, records related to purchases and expenses, gross receipts and employment tax records are also essential.
Tax Records
You'll need good documentation to file accurate tax returns at the end of tax periods. Relevant documents and records include receipts, cancelled checks, detail of properties and investments, and other documents that can serve as proof of your activities. How long you keep these records depend on the information within the record. For example, if you're within the period to file a tax amendment, keep all supporting documentation for that amendment until after the period expires. Also, keep all supporting documentation until the time passes during which the IRS can assess taxes on your income. If you don't file a return, you'll need to keep documentation indefinitely.