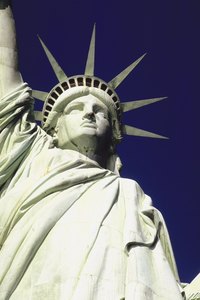 New York counts as one of the most magical winter destinations for travelers. Twinkling lights and cheery shop windows filled with animatronic puppets generate excitement for visitors. Despite its delights, however, travel to New York in winter can carry its share of problems, namely the lost bag. To deal with this issue, be a savvy traveler by packing only what you need most.
General Tips
Packing a carry-on so that it allows you to live for a number of days without luggage doesn't need to be difficult. Start with a neutral color palette and pack items such as pants or T-shirts that primarily feature the chosen shade. Dress up these items with accessories such as scarves, ties and other small items. This allows you to create multiple outfits by mixing and matching. Rolled clothing travels much better than folded items and with fewer wrinkles. Finally, if you're a reader, take an electronic reader which allows you to carry thousands of books without the bulk.
Shoes and Socks
Winters in New York get soggy, and solid shoes and warm socks help keep the feet from freezing as the temperatures fall. Shoes can take up room in a small suitcase. Approach this challenge by taking a sturdy, but nice-looking pair of shoes that will slide into the sides of the carry-on while wearing dress boots with good traction on the plane. Women can opt for long, knee-high dress boots that work with dresses and pants, and men can concentrate on black or brown ankle-length boots.
All-Purpose Clothing
In National Geographic's Intelligent Travel blog, writer Aric S. Queen suggests that travelers take half the clothes they think they'll need and double the money. While inexperienced travelers may fret at the thought of leaving favorite clothing items behind, it makes sense to bring multipurpose clothing and purchase the rest as needed. For example, a dress made of thick, but wrinkle-free material or a couple of pairs of low-maintenance black pants can work in a number of different settings, especially when they coordinate with other clothing items.
Layers -- Not Bulk
New York can have blustery winters, with deep snows, sleet, rain and strong winds ripping through the streets making the season all the meaner. Although conventional wisdom might suggest packing bulky coats and thick sweaters, these don't always present the most travel-friendly options. In this case, layering works better. Choose a rain slicker lined with flannel. Underneath it, layer T-shirts, then turtlenecks and possibly a dress sweater. Other items such as thermal underwear or leggings keep the lower half of the body warm without adding bulk to the carry-on. Don't forget a colorful scarf and warm hat.