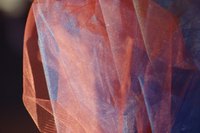 If you have ever seen a "poofy" dress or ornate curtains, chances are those items have been made with organdy or organza. Organdy and organza are key fabrics in creating personal and home fashions. Many people tend to use organdy and organza interchangeably, when in fact, they have differences that contribute to their function, based on contents, uses and care.
Contents
Organdy and organza are both lightweight fabrics made in an open weave with tightly twisted yarns. Organdy is comprised of a crisp, sheer cotton or nylon while organza is comprised mainly of synthetic fibers such as nylon or polyester. In some instances, silk organza can be obtained.
Form and Uses
Organdy is used in crafts for embellishing scrapbook projects, creating artificial flowers and doll clothing. It can also be used in creating overlays for blouses, dresses and baby clothes. Due to its tightly twisted fibers, organdy has a crisp texture which can wrinkle easily. It can be manipulated to create bulk under evening wear and table settings. Organdy comes in three forms: stiff, semi-stiff and soft. Stiff organdy is the type commonly used in creating dresses and curtains. Semi-stiff and soft organdy is mostly used for creating summer apparel and draped clothing. Organdy is more pliable and can be changed for specialty uses.
Organza serves more as a counterpart. It is used as an underlining for other silks and fabrics in creating bedding and accessories. Organza is also known for ease while sewing and can hold up against being pinned without showing pin holes.
Care
Organdy will lose it crispness over time through washing unless it is bellmanized. Bellmanizing is a chemical process that treats the organdy so it can have permanent crispness. Organdy can also be smoothed out by ironing it. Organza is washable. Cold water washing is preferred to maintain crispness. If organza is being used on other projects, it is best to wash it before cutting it for use.
Price
Bellmanized organdy is more expensive as the process ensures permanent crispness. Silk organza is the most expensive, as it is a fabric of great quality. Otherwise, cheaper synthetic blends can be found at local fabric stores.