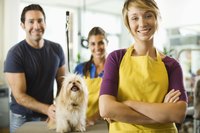 Your puppy will need grooming throughout his entire life. If he has a positive first experience being groomed, he won't resist future grooming sessions and may even enjoy them. Waiting too long to take him to the groomer, however, could lead to resistance and fear that will take a lot of effort to overcome.
Age
The younger your puppy is when you first take him to a groomer, the more likely he is to be comfortable and accepting of the experience in the long run. To a young dog, the activity, noise, other dogs, water, blowers and clippers can be intimidating, not to mention being handled by a stranger. If he is exposed early, however, it will be less frightening and quickly become a regular and normal experience. Check with your groomer to find out the youngest age of puppy allowed in the shop. Some set age restrictions, while others set vaccination restrictions.
Immunization
Early exposure to a grooming experience should be balanced with protecting your puppy against contagious illness. Most groomers recommend waiting until your puppy is fully vaccinated, or at least has received his second set of puppy shots before his first appointment. This is usually around four months of age, though your puppy may not need a full grooming treatment at this point.
Preparation
From the time you first bring your puppy home, start preparing him for regular grooming so that he accepts the process as normal. Brush him gently, pick up his feet and feel between his toes, wipe the inside of his ears with a soft cloth and brush his teeth on a regular basis. Praise him while performing these tasks, or offer him treats, and keep the sessions fun and positive.
Grooming
Your puppy's first grooming session is not likely to include a full cut. Instead, it should be an abbreviated session that introduces him to the groomer, tools such as electric clippers and air dryer and the busy environment. The groomer will probably give him a gentle bath, clip his nails, brush his teeth, clean his ears and trim the hair on his face, feet and anal area. She may use the electric clippers, or just run them near him so he can get used to the noise and vibration. On subsequent trips, the groomer will do a little more, so that your puppy gradually gets used to each procedure.