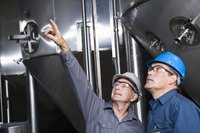 Forming a limited liability company is a good way to protect yourself from being personally liable for the debts and obligations of your business. However, this protection is not absolute. If your business runs afoul of its duty to comply with the regulations of the Occupational Safety and Health Administration, you can be personally liable for paying fines and, in a worst-case scenario, face criminal charges.
OSHA Regulations
Unless you are self-employed, own a farm with only family members as employees or operate in an industry regulated by other federal laws -- such as mining -- your business must comply with OSHA's safety and health regulations. OSHA regulations are extensive, and some of them apply to specific industries such as construction, maritime and agriculture. Even in the absence of specific regulations, OSHA regulations include a general duty clause that requires all covered employers to keep the workplace free of recognized hazards that are likely to cause serious injury or death to employees. OSHA compliance officers are authorized to show up unannounced at your business and inspect the workplace for violations.
OSHA Citations and Penalties
Following an inspection, the OSHA area director is authorized to issue citations for violations with proposed penalties. The director can choose from several levels of citations and penalties, depending on the severity of the violation. The highest level of citation and penalties is for an employer's willful or repeated violation of OSHA regulations. This level of citation can result in fines of up to $70,000 for each violation, with a minimum fine of $5,000 per violation.
Owner Civil Liability for OSHA Violations
When a business operated as an LLC is cited for willful or repeated violation of OSHA regulations, OSHA can pursue the LLC owners for payment of the penalties personally by "piercing the corporate veil" -- that is, disregarding the existence of the legal entity to attribute the violations to the individual owners. In taking this approach, OSHA must show that the owners conduct their business in such a way that there is no distinction between the legal entity and the owners. For an LLC owner, this can occur in several ways, such as commingling of the owner's personal funds and the LLC funds, or by the owner's failure to follow state laws regarding periodic filings required to keep an LLC in good standing with the state. OSHA has successfully made such claims against company owners.
Criminal Liability
In the unfortunate situation where an employee dies as a result of a company's failure to comply with OSHA regulations, criminal charges may be levied against the company and its owners if the violations are found by OSHA to be willful. The company can be fined up to $500,000 per employee fatality. Company owners can be fined up to $250,000 and sentenced to up to six months in jail.