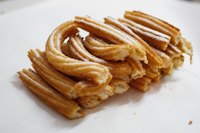 In most Mediterranean countries, how much you pay for food depends quite a bit on how close you stick to the tourist trail. In Spain, which has been hit harder than most by the Great Recession, this is even more pronounced. Ordering a pitcher of sangria on Barcelona's famous Las Ramblas can cost you $50 to $65 (€40 to €50), but freshly made sangria is only a few dollars on a side street. The prices were current as of the date of publication, when the euro-to-dollar exchange rate was €1 to $1.31, but check the current rate before you visit, as it can fluctuate widely, making food more -- or less -- expensive during your trip.
Breakfast
Spaniards start their day simply with a café con leche (strong coffee with milk, similar to an Italian latte) and a pastry or, in the northeast in Catalunya, pan amb tomaquet (toasted bread covered with grated tomato). In a typical neighborhood café, even in major cities, a hot drink and a pastry don't cost more than $4 (€3). If the café has indoor seating with table service or patio seating on a particularly scenic square, ordering through the server will typically cost up to double the base price. Freshly squeezed orange juice — a staple in Spanish bars — or high-quality bottled juices cost between $2.50 and $4 (€2 to €3), but you can often get a combo of hot drink, pastry and juice for from $2.50 to $5 (€2 to €4) during breakfast hours.
Lunch
Sandwiches (known in Spain as bocadillos) run between $2.50 and $6.50 (€2 to €5). Most priced $6.50 (€5) and up are over-priced for tourists and lower quality. Tapas cost from $1.30 to $4 (€1 to €3) per item, but be careful not to confuse them with rations, larger menu items that cost from $8 to $25 (€6 to €20). You'll see the menu del dia' (menu of the day) advertised on chalkboards outside many restaurants at midday for anywhere from $10.50 to $23.50 (€8 to €18). Originally intended as an inexpensive lunch for workers unable to return home to eat with their families, it now includes multiple courses, water, wine and a postprandial coffee. Lunch menus at fine restaurants typically carry similar prices to their dinner menus.
Dinner
As in most parts of the world, dinner in Spain is the most expensive meal of the day. A common way to sample different foods for a low overall price is to do a tapas crawl, procuring one or two tapas at a number of different bars until you've had your fill. These typically run $20 to $25 (€15 to €20) per person with drinks, but can be as low as $10.50 to $13 (€8 to €10) if you're thrifty or have a small appetite. At an average restaurant, you'll see rations for the same prices as at lunch, appetizers in the $5 to $10.50 (€4 to €8) range and entrees for $16 to $33 (€12 to €25). If you are staying in self-catering accommodation, you can easily find prepared or frozen foods at the local supermarket to put together a meal for two for $6.50 to $13 (€5 to €10).
Snacks
Tapas at a bar or pastries at a café are the quintessential midday snacks in Spain. You'll find that most tapas bars stay open throughout the day, even if they're relatively empty in the afternoon. You can stop in for a few croquettes for a few euros or order a small beer or glass of wine for $1.30 to $2.50 (€1 to €2) and get a small tapa for free with your beverage. Cafes likewise stay open throughout the afternoon, often closing around or just before dinner, with the same prices throughout the day. The popular Spanish snack of churros (ridged lengths of sugar-coated fried dough) with hot chocolate costs between $4 and $6.50 (€3 to €5) depending on the renown of the establishment.