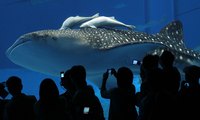 Naha is the capital city of Okinawa, the largest of an archipelago of 160 islands, and the transport hub for air and sea links to the rest. Having been largely destroyed in the Battle of Okinawa in World War II, and administered by the United States until 1972, the city slowly has restored its historical landmarks, which now sit comfortably with a lively, modern city. The island is familiar to many U.S. citizens as the home of three-quarters of military bases in Japan. The Okinawa Monorail provides an easy way to visit most of Naha's attractions.
Heritage Tour
The legacy of the Ryuku Kingdom is a cluster of castles built between the 14th and 18th centuries. There are no fewer than nine castles from the dynasty that are on the UNESCO World Heritage list. According to Frommer's, Shuri Castle is Naha's top attraction. First built around the 14th century, the former palace was reconstructed after World War II, and is a great place to catch a performance of traditional dance and enjoy hilltop views over the city. The final coda to the Ryuka dynasty is the Tamaudun Mausoleum, built in the 16th century, and the burial place for the family, a short walk from Shuri Castle.
Cultural Sites
The Okinawa Prefectural Museum and Art Museum has a thorough exhibition on the history of the Okinawa islands, from their own folklore and cultures to the interactions with outside cultures, both successful and cataclysmic. In central Naha, the Tsuboya district has been the historic seat of pottery since 1682. The pottery museum explains the techniques and history behind ceramic production, while local shops sell the distinctive lion-dog figurines and spirit jugs. Lonely Planet calls Tsuboya one of the best parts of Naha.
Island Heritage
A 50-minute bus ride from central Naha, the Churaumi Aquarium is one of Japan's best, according to Japan Guide. The Kuroshio Tank, one of the largest in the world, hosts giant whale sharks and rays, among other species. Other features include tanks where visitors can touch starfish, shells and living coral. The aquarium is part of Ocean Expo Park, which stretches almost 2 miles along the coast and commemorates Okinawans' affinity with the sea. Artifacts include a trade-ship replica from Ryuku times and the re-creation of a native Okinawan village. Visitors can round off their trip with a spot of bathing on Emerald Beach.
Theme Park
Okinawa World, a short bus ride from Naha, is the largest theme park in the province, with an emphasis on culture and natural science. The Gyokusendo Cave is the second longest limestone cave in Japan, reached by a 2,900-foot walkway for the best view of stalactite and stalagmite formations. Other features include arts-and-crafts demonstrations in restored traditional Okinawa homes. The snake museum may not appeal to everyone, but includes specimens of the island's indigenous habu poisonous snake.