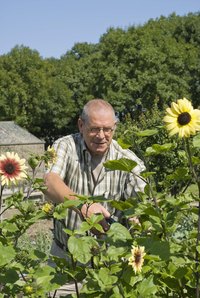 Ornamental sunflowers come in a stunning array of colors from cheery yellow, rich orange and vibrant red, to deep chocolate brown, making them a stunning addition to the garden. They vary in size as well, ranging from only 2 feet tall to towering giants of 10 feet. Each size has different space needs.
Basics
All sunflowers should be planted half an inch deep in the soil. They do not like being transplanted, so plant seeds outdoors after the danger of frost has passed. Sunflowers will grow in all United States planting zones, but best results and the most flowers are produced in areas with long, hot summers. To ensure germination, plant two or three seeds together. Once the seedlings are 4 inches tall, remove all but the largest, healthiest seedling from each section. This will prevent bare patches in the garden or gaps in rows of sunflowers.
Compact
Small sunflower varieties reach a height of 2 to 4 feet tall. These varieties should be planted 2 inches apart. Rows should be at least 2 feet apart. The smallest can also be planted in clusters of four or five plants. However, placing sunflowers close together reduces the number of blossoms each plant will produce. In some cases, planting in clusters will also produce smaller flowers as well.
Average
Medium-sized sunflowers range in height from 4 to 6 feet tall. Seeds should be planted at least 3 inches apart. If this size of sunflowers is planted in rows, there should be a distance of 3 feet apart to give the plants space to branch out. Blooms can be 4 to 6 inches in diameter and may need to be supported to prevent stalks from bending, or even breaking, from the weight of the flowers.
Giant
Large sunflowers reach 6 to 10 feet in height. These varieties need at least four inches between plants, with four feet between rows. The flowers grow from 6 inches to 12 inches in diameter and usually need support to protect the stems from damage. Some varieties this size are edible, as well as ornamental.
Visitors
Plant size is not the only space consideration when planting sunflowers. The flowers attract bees and other nectar and pollen gathering insects. This can be beneficial to other flowers or to fruits and vegetables planted nearby. However, attracting bees close to picnic tables or areas where children play may not be desirable. Sunflowers of all varieties and sizes produce seeds. These seeds may not be good for human consumption but birds, squirrels, and other small animals love them. Bird watchers or animal lovers can provide places to watch the creatures sunflowers attract while planning planting space.