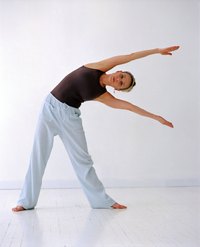 While stretching is often not technically viewed as an exercise in and of itself, it's a crucial component of any active lifestyle, and its health benefits are often underestimated. With dozens of different stretches available to you, from the full-body movements of yoga to muscle-specific sports stretches, take a moment today to explore the many ways that stretching can enhance your health. But remember, before changing your exercise lifestyle, consult your doctor first to ensure that stretching is right for you.
Enhanced Muscle Growth
Stretching is one of the top ways to boost your muscle fitness, reports "Men's Health" magazine, which recommends stretching between sets of weight lifting. Stretching may enhance muscle growth in several ways. For example, it boosts blood flow to the area, providing the muscle with oxygen and nutrients such as glycogen and protein. Additionally, stretching lengthens the muscle fibers, thus helping to enhance muscle size and strength. Side health benefits of enhanced muscle development include increased capabilities in everyday lifting and pushing, and a higher metabolism rate.
Improved Range of Motion
Stretching boosts your muscles' and tendons' range of motion and elevates your level of flexibility. This has numerous potential health benefits. For example, more flexibility in your tendons helps reduce the risk of experiencing microtrauma during exercise. Additionally, helping your body boost its range of motion helps to enhance your physical performance and may guard against injuries related to movement, such as in sports.
Increased Circulation
Stretching helps improve the circulation and flow of blood throughout your body, which helps with overall well-being and may even help to improve your general mood. Improving your body's circulation through stretching may also help to lower your risks of circulatory diseases, such as diabetes and heart disease.
Enhanced Joint Health
Stiffness and weakness in your joints is one of the biggest contributors to loss of independence as you get older and your body ages. Regular stretching can help enhance joint health and reduce the speed of joint degeneration. Stretching can also help reduce arthritis-related problems, such as stiffness and pain, in commonly affected areas such as your wrists, elbows, knees and lower areas of your spine.