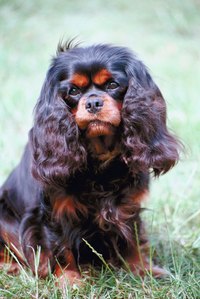 Breeding your Cavalier King Charles Spaniel is a big decision that will trigger a lot of work and planning. Consider the expense of caring for a litter of pups. Stud fees, vaccinations, health screenings and supplies can total $4,000. Partnering with an experienced Cavalier breeder can help guide you through the breeding and whelping process, no matter the litter size.
Litter Size
Norma Moffatt, a longtime Cavalier breeder and author of the book "Your Happy, Healthy Pet: Cavalier King Charles Spaniel," writes that this breed tends to produce small litters with an average of three pups.The Cavalier is a petite, toy breed, standing 12 to13 inches tall and weighing between 13 and 18 pounds. Dr. Carmen L Battaglia, a dog-breeding expert and AKC judge, notes that toy and terrier breeds tend to have smaller litters. "This is in part because of their very small size, which limits their capacity to carry large litters," he says. Smaller litters can be more manageable and enable you to give each pup the individual attention and care he needs to thrive.
Mother's age
If your Cavalier is extremely young (under a year) or elderly (over 8), litter size will be affected. Young Cavaliers or those approaching their golden years are less fertile. It is critical to wait until your Cavalier is physically mature -- 1 to 2 years old for most Cavaliers -- before attempting to breed her. A Cavalier's first litter is usually smaller than a second or third litter. The Cavalier Spaniel Club USA recommends that these dogs should not have more than six litters in a lifetime and no more than two litters within a year and a half.
Health and fertility
The health of your female Cavalier will impact fertility. In his book, "The Illustrated Guide to Dog Breeds," author Mike Stockman notes that the Cavalier King Charles Spaniel is prone to obesity. This can cause abnormal heat cycles, lack of fertility and a decrease in litter size. You will increase the odds of a robust litter if you keep your female in excellent physical condition. A regular exercise routine is critical to reproductive health.
Breeding Management
When a female Cavalier ovulates, the eggs are not mature enough to be fertilized until after 48 hours. If she is bred too early or too late, a limited number of eggs will be viable, resulting in fewer pups. Observe your Cavalier carefully to see when she is ready to be bred. She may position her tail to one side, mount other dogs and nuzzle or paw at a male dog. In his book "The Complete Guide to Dog Breeding," author Dan Rice says that once your female shows interest in a male, you should wait one or two before attempting to breed her. Repeat this process a few days later if you think that the first attempt was unsuccessful.