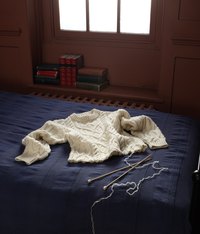 Cotton, flax, ramie, cashmere, wool and silk are natural plant and animal fibers. Once processed at the textile mill, these natural fibers are woven into cloth to make a variety of fabrics. These materials have specific advantages when constructed into apparel. Certain natural fibers are prone to wrinkle while others are wrinkle resistant. Wrinkles generally occur unintentionally by the wearer through natural movement or washing. The difference is in the resilient nature of the natural fiber. Since processing steps and weaves vary, certain fabrics made of 100 percent natural fibers -- wool, mohair, silk and alpaca -- are less prone to wrinkle.
Wool
Fleece sheared from sheep is processed into wool material. This natural fiber is a protein fiber that has natural crimp and elasticity, producing a textile that is less prone to wrinkling. Wool cloth is woven and divided into two categories: woolen and worsted. Woolens are loosely woven and prone to wrinkle while worsted cloth are generally tightly woven, producing material that is less prone to wrinkle. When labels include product wording -- "high-twist yarn" or "Super number," for instance -- it indicates that the yarn has a higher propensity of wrinkle resistance as well as fabric recovery. The material returns back to its original state over extended wear, which is caused by the high-twist yarn springing back to its original shape. Be mindful that the higher the Super number used to produce fine suits, the lighter the fabric weight, making it more prone to wrinkle.
Mohair
The Angora goat produces the natural fiber referred to as mohair. This smooth and lustrous fiber ranges from six to 12 inches in length. Available in different grades, mohair ranges from adult to kid hair classifications. Although this fiber has less crimp than sheep's wool, textile mills use similar processing equipment and blend this hairier yarn with other natural fibers, especially wool. The lustrous and shiny yarn is used in novelty yarns to produce wrinkle resistant textiles used for making apparel such as scarves, cardigans and sweaters.
Silk
Silkworm larvae generate cocoons that contain the natural protein fiber made into silk. This fiber, when processed into silk, produces a luxurious and lustrous fabric. Although most associate this fiber with spun silk, knitted construction and weaves, such as plain, twill, satin and fancy, include silk to produce an array of delicate textiles. For instance, high-end retail garments made of silk knitted jersey or bouclé also wear well for travel. Although the garments are expensive, the knitted textile has a natural resistance to wrinkle.
Alpaca
The llama family has many members including the alpaca, which inhabits the Andes Mountains. Alpaca fibers are generally white or black ranging in length, from eight to 30 inches. This lanolin-free, luxurious fiber is also known for its long-lasting strength and wrinkle resistance, creating garments that wear well for travel. Although alpaca can be processed like wool and categorized as woolen or worsted, this fine fiber is less prone to shrinkage than wool fibers.