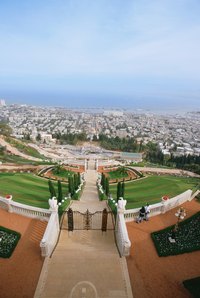 Haifa, Israel's third largest city, is located on the Mediterranean in the far north of the country. The peaceful coexistence of its Jewish, Muslim and Christian inhabitants makes it an example of what is possible when these diverse cultures work together to preserve the monuments and other holy sites that draw visitors from around the world. Despite the cosmopolitan nature of the city, though, it is arguably the azure waters of the easily accessible sea that makes Haifa a favored destination.
Bat Galim Beach
Bat Galim Beach is one of the city's oldest beaches. This family-friendly beach is located near the Galim and Rosh HaCarmel sections of Haifa. Free parking, benches and a playground featuring a giant wooden pirate ship make it a great place to take the kids for a day at the beach. The southern part of the beach is often frequented by surfers and windsurfers, while the rest of the beach is great for swimming because of the breakwater situated near Haifa Bay.
Hof Hashaket Beach
Hof Hashaket Beach is located just behind the Haifa Bay breakwater. Its protected nature -- akin to a saltwater swimming pool -- makes it ideal for swimming. In fact, it is known among Israelis as "the serene beach." Visitors will need to take into account this beach's gender segregation policy. The beach is open to men only on Mondays, Wednesdays and Fridays, and accessible to women only on Sundays, Tuesdays and Thursdays. Both men and women are free to use the beach on Saturdays, however.
Dado Zamir Beach
Dado Zamir Beach is one of Haifa's most most popular. A boardwalk promenade runs from the southern tip of Dado Zamir all the way to the northern end of neighboring Carmel Beach. In addition to the normal beach-side attractions like bars and restaurants, weekly Israeli folk dancing sessions are held for free at the dancing arena. The beach even has WiFi for those who want to stay connected while getting some sun.
Carmel Beach
Carmel Beach, just west of the Nave David neighborhood, is the continuation of Dado Zamir Beach. The breakwater here keeps the waves to a minimum, making it a great place for a relaxing swim. The boardwalk, which connects Carmel Beach to Dado Zamir, offers bars, restaurants, benches, sitting areas, playgrounds and sports facilities for those who want to take a break from the sun and sand.
Kiryat Haim Beach
Kiryat Haim Beach, on the edge of the northern Haifa suburb of the same name, is known for its gardens situated along a boardwalk promenade. The beach has special barbecue areas and an area used to host summer events, such as organized dances. Near the northern end, a separate beach with gender specific scheduling is available for the more religious residents. As with other beaches in the region that observe this rule, men may visit on Mondays, Wednesdays and Fridays, and women are welcome on Sundays, Tuesdays and Thursdays. Both genders are welcome on Saturdays.