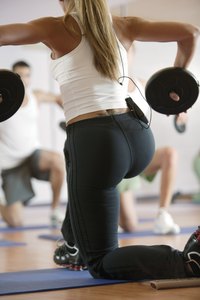 Many people want to tone and tighten their rear end, whether it's for health reasons, to improve appearance or to feel more comfortable in clothes. One of the ways to help you control your weight and tone your muscles is to eat a healthy and low-calorie diet. You can't target your butt with food, but making healthy choices can help you drop excess fat in the area and gives you the fuel you need to do butt exercises.
Fast Food
Hitting your local drive-thru is easy and convenient, but most of the menu items are high in fat, salt, calories or sugar, which can interfere with weight loss in your buttocks. If you can't get rid of the fat in the area, you won't be able to uncover the muscles underneath for showing off a toned and tight rear. Fast food is linked to weight gain, notes the National Institutes of Health, so avoiding it can help you whittle your backside. If you must have fast food, check the restaurant's website and find a low-calorie option, such as a grilled chicken salad minus the dressing or a bean burrito without cheese.
Fried Foods
Whether you make them at home or order them at a restaurant, fried foods often contain huge numbers of calories, when compared to those that are grilled or broiled. Eating too much fried food can pile on the pounds over the years, according to CBS News, because you're filling your body with excess calories and fat. If you want to slim your buttocks, eating fried foods, such as potato chips, breaded shrimp or chicken and french fries can get in the way of your goals.
Processed Foods
Eating processed food is associated with gradual weight gain, according to the Harvard School of Public Health. This is because many of these items are loaded with fat, calories, salt and sugar, which isn't conducive to weight loss in your rear, nor do they have much in the way of nutritional value. Avoid packaged cakes, cookies, fruit snacks, frozen dinners, frozen pizza, yogurt with added sugar, refined grains and stick margarine. All of these items can actually result in adding weight to your butt, rather than toning and tightening it.
Sugary Drinks
Many people don't count the calories in their drinks or underestimate how many they contain. This can dramatically hinder your goals when it comes to defining your butt. Taking in more calories than you burn makes it difficult to lose weight and can actually result in piling on the pounds. Avoid soda because it is high in calories and sugar, with no nutrition. It's also a good idea to limit or avoid fruit juice and sports drinks, which are also high in sugar and calories. Instead, opt for water or unsweetened iced tea.