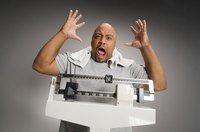 Your body mass index is a ratio of height to weight that can provide important information about your overall health. BMI is commonly used to assess obesity, but can also indicate that a person is underweight and possibly malnourished. BMI won't, however, provide information about the specific cause of malnutrition or specific nutrients missing from a person's diet.
BMI Basics
BMI is calculated based upon your height and weight. Because muscle weighs more than fat, BMI can sometimes be misleading, and some very muscular people may have "overweight" BMIs despite very low body fat. If you're classified as underweight on a BMI scale, you could still have excess body fat, but likely have very little muscle. Being underweight can be just as dangerous as being overweight, so doctors sometimes use BMI to assess whether a person needs to gain weight.
BMI and Malnourishment
According to the UK's National Health Service, people with BMIs under 18.5 are considered underweight, and people with BMIs below 20 are at risk of being malnourished. The lower the BMI, the more likely it is that a person is malnourished. However, BMI doesn't measure the food a person is eating, and even a person with an average or high BMI could be malnourished. A diet consisting only of fast food, for example, could cause someone to rapidly gain weight but would not provide sufficient nutrition to remain healthy. Consequently, BMI is only one method for assessing malnourishment; a combination of symptoms and diet are key for diagnosing the condition.
Clinical Malnutrition
Signs of clinical malnutrition include low energy, mood changes, feeling cold all the time, growing excess body hair, depression, diarrhea, difficulty concentrating, fainting spells and heart palpitations. If a doctor suspects you might be malnourished, he'll ask about the food you're eating and may assess you to determine whether you have an eating disorder. If you have a low BMI but are eating a healthy diet, your doctor might consider other explanations, such as an overactive thyroid.
Treatment
Depending upon the degree of malnutrition, you might need to work with a nutritionist to develop a healthy diet. Calorie supplement drinks can help you gain weight and get important micronutrients, and calorie-rich foods such as nuts and fish can help you get important macronutrients. Your doctor might also recommend a multivitamin. If you're underweight, trying to gain weight rapidly is not generally a healthy strategy. Instead, just as with weight loss, you'll need to focus on slowly improving your diet so that you gain weight over time.