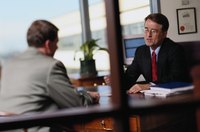 In some ways, keeping your company's books is rather like your middle-school math class. Having the correct end result is important, but you also have to show your work. In accounting, the information that corroborates your financial reporting is referred to as an audit trail. It's a crucial tool for verifying the validity of your company's books.
The Basics
The neat figures that make up your company's ledgers represent the end result of all your transactions. Each of those transactions has supporting documentation, such as invoices, checks or account statements from your vendors. If you should ever find a discrepancy in your books, you could go back to those source documents and use them to verify the entries in your accounting system. That's why they're referred to as your audit trail. Maintaining those records enables you to substantiate each entry in your accounts.
What it Includes
Managing an audit trail is much like the process you follow when you balance your checkbook. The cancelled checks and your bank's published service fees provide the audit trail -- and you check them against your bank statement to ensure they match. Your audit trail might provide the date you received an invoice, the amount of the invoice, and the number of the check that paid it. If you're invoicing a customer for a project, your audit trail might include your original quote, the cost of materials used, your total payroll, the invoicing date, and the date you received payment.
How it Works
The audit trail provides essential protection against errors and fraud. When clients challenge the amount of an invoice with an audit trail, you can check that invoice against its supporting documentation and either verify or correct the amount. If your company's operating accounts don't contain as much cash as they should, reviewing the audit trail can help you determine whether it was the result of human error or employee fraud. If you're ever audited by the IRS or accused of failing to comply with accounting standards, the quality of your audit trail might spare you from further difficulties.
Integrity
The IRS and other regulatory authorities spell out what supporting documentation they expect you to keep, as well as how long you need to store it. You can record most of that information on your accounting software, but keeping the physical documentation allows you to check for errors or falsifications. You also have to care for the integrity of your audit trail. Only authorized users should have access to physical documents -- and you should document every access. Your accounting software should have similar safeguards, limiting access to sensitive data and recording everyone who adds or changes information.