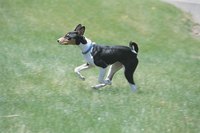 Puppies go through numerous stages in their lives, which can vary based on the breed and size of the dog. While each dog is different, there are many recognizable stages, including adolescence, which comes with an associated rebellion. Anticipating this "teenage-like" behavior and planning accordingly can help you and your pet transition through this sometimes frustrating and awkward phase of life.
Puppy Development
Young puppies are learning and growing every day. Initially, they learn attitude and behavior from their mother and littermates. When they go to permanent homes, they make the adjustment to living with humans and other household animals and begin finding their place in their new "pack." Some young puppy behaviors that occur between 8 and 12 weeks of age are not considered rebellious, but rather, normal puppy behaviors. These include mouthing or biting, barking, jumping, not listening to commands and having trouble with housebreaking. Time, attention and obedience training will help you and your pup through these early developmental stages.
Puppy Adolescence
Puppy adolescence -- the most common time for rebellious behavior -- typically occurs between 6 and 18 months of age. Much like human teenagers, puppy rebellion is often prompted by physical development changes, primarily hormonal changes and sexual maturity. You pup may seem to "forget" previously learned commands, may begin marking territory in the house, and may even show signs of aggression or territory protection. In addition, sexually maturing pups will get the urge to wander in search of a mate, which can lead to potentially dangerous situations, like running away, dodging into traffic and getting into fights with other dogs and even wild animals.
Spay and Neuter
Spaying or neutering your dog just before he or she reaches sexual maturity can help reduce the severity of the rebellious stage. While it won't eliminate this developmental transition, it will lessen the potential for aggression and urine marking, and your pup will be less likely to disobey learned commands. Consult with your vet about the most appropriate time to spay or neuter your pup.
Coping With Puppy Rebellion
Puppy rebellion can be a challenging time for animals and their human companions. Rest assured that your pup will eventually grow out of this stage, and you can help make the transition easier for your entire household. Set firm boundaries for your pup, retraining him on obedience issues if necessary. If your pup was not properly socialized in his early weeks and months, attempt to socialize him now in a safe and controlled environment, like an obedience class. Promptly clean up accidents in the house to discourage future marking and use crate training techniques to keep your pup safe and contained when you are not available.