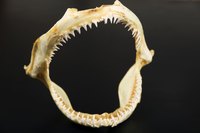 Venice, Florida, roughly 18 miles south of Sarasota, is a coastal town with 14 miles of expansive, white-sand beaches on the Gulf of Mexico and a downtown area that features landscaped streets and Italian architecture that pays homage to the Northern Italian city for which the town in named. Each year in April, the city -- also known as the shark's tooth capital of the world because of the large number of shark's teeth that have washed up on the city's beaches -- hosts the Shark's Tooth Festival.
General Information
Venice is a hot spot for shark-tooth hunters, a reputation that inspired the festival's organizers to create this annual event in 1992. The festival -- usually held in the middle of April at the Venice Airport Festival Grounds -- is located near the city's municipal airport less than 2 miles from downtown Venice. The festival is set against the backdrop of Caspersen Beach, renowned for its abundance of sharks' teeth and other shells. Parking is free, but there is a small admission fee. Children 12 and younger enter free. Venice's Special Athlete Boosters, Inc. organizes the festival and donates the proceeds to Sarasota County's Special Olympics.
Attractions
Fossils and shark teeth take center stage with numerous displays and three spacious tents featuring more than 20 vendors selling shark teeth and other fossils that date back to prehistoric times. Live entertainment courtesy of local and regional bands rocks the festival from Friday night through Sunday night. Musical offerings suit a range of tastes, with bands playing everything from salsa and reggae to country western and rock and roll. The festival includes a large selection of arts and crafts from more than 100 local and regional artists and children's attractions such as a special exhibit designed by Mote Aquarium in Sarasota. Hungry visitors can choose from menu items such as seafood, burgers, sandwiches and more, along with ice-cold beer and soft drinks.
The 10K Race
While the festival entertains kids with its Shark's Tooth Scramble adventure, adults can sign up for the Shark's Tooth 10K organized by the Active Suncoast Foundation. Participants are eligible for free admission to the festival on the day of the race, along with admission to a post-race party, door prizes and awards. Prizes are given in several categories, including youth ages 14 and younger, senior grand masters, Veteran grand masters, grand masters, masters, youth ages 12 and younger, and two categories for contestants who walk the single-loop race course.
Nearby Lodging
Several lodging options are within 2 miles of the festival grounds, including the Island Sun Inn, less than a mile away. This venue features an on-site restaurant and an outdoor pool. The Venice Palm Inn is within walking distance to the beach, the OZA Inn is only about five-minutes from Caspersen beach and other area attractions.